The explosion of mobile technology is exponentially increasing the demand for streaming music from services such as Apple, YouTube, Spotify, and others. In fact, a report from the Recording Industry Association of America (RIAA) shows that it made up 75% of the industry's revenue, an increase of 10% from 2017.
But has this method of downloading media-on-demand turned us into a disposable, ephemeral culture? Before we can answer this question, let's take a look back at how we arrived here.
The History of Digital Media
MP3s
The 1980s marked the beginning with the development of the MP3 digital file format. With this quality format, it became possible to burn CDs and save music to computer hard drives, then freely sharing it to anyone through any platform without restrictions. Taking advantage of this new way of sharing music, Liquid Audio, a company formed in 1996, developed their own standard with multiple software clients and a distribution system for streaming and downloading music.
They joined another company, RealNetworks, to become the pioneers in online audio standards. Both companies worked closely with record companies to enable the legal distribution of music. This innovative method of sharing music expanded with the use of peer-to-peer networks such as Napster and Limewire. With these services, listeners were able to download recordings by both mainstream and unsigned artists to enjoy and then freely share. With just about every college dormitory overloading high-speed networks, many colleges were forced to block these services.  Eventually, with little to no legal oversight, these two networks became a hotbed of bootlegged media distribution. Both services ultimately were shut down after facing legal challenges from the RIAA.
CDs
The shut down of these networks were a tough blow for music collectors everywhere. They rightly stopped the illegal distribution of established artists' albums, but they no longer remained a hub for finding rare music that was never pressed to vinyl or CD. With the increasing popularity of music streaming with MP3, small independent record stores suffered from decreased sales. Once acting as local cultural centers for new music, they faced bankruptcy and ultimately were shut down. Even big-box retailers such as Costco were affected by the streaming craze as they reduced-priced CD collections. Ultimately, their motive was to steer shoppers towards larger purchases such as appliances and electronics. Thanks to the streaming media phenomenon, this tactic was no longer a tool in their sales arsenal.
As more listeners began compiling their album collections onto their computer hard drives and portable devices, the physicality of shared music changed dramatically. Gone were the extensive physical record and CD collections that once lined the shelves at our friends' homes. These were replaced with full computer directories of albums and singles from a multitude of sources. But one simply cannot ask to go through their friend's Apple iTunes collection as they would a stack of physical vinyl records or CDs.
Streaming
Streaming has also affected the way we view live music. The current global pandemic is further perpetuating this as artists are unable to tour. Musicians and DJs have turned to such platforms as Twitch, YouTube, and Instagram to perform live for fans. Though this can never replace the exhilaration of being a part of a live concert experience, it has expanded accessibility. Indeed, those who were unable to attend these shows, now can. As Dr. Jennifer Otter Bickerdike states in her interview on the Clearly Cloud Podcast, "something happens at a live gig or when you're at a nightclub and you're all dancing to this one song and you transcend beyond yourself. That is something you can't get from a computer, period."
That is not to say that after the pandemic, Twitch and other live-streaming services will continue to survive. As long as social distancing continues to be the norm, reliance on these platforms for musical entertainment will always be in demand.
Cloud Recordings
These recordings reside in the cloud, creating a culture online that could also disappear should these social platforms suffer the same fate as Napster and others did decades ago.  There is no physicality to replicate with their eventual disappearance. This phenomenon can be referred to as the MySpace Effect in the sense that all messages saved were permanently erased upon shut down.
This same effect can be compared to a monthly Netflix or other streaming movie service subscription. We have grown to depend on them to stay around forever for complete access to a library with a click. But, there seemingly will always be some way for streaming content to find its way to subscribers.
Physical Records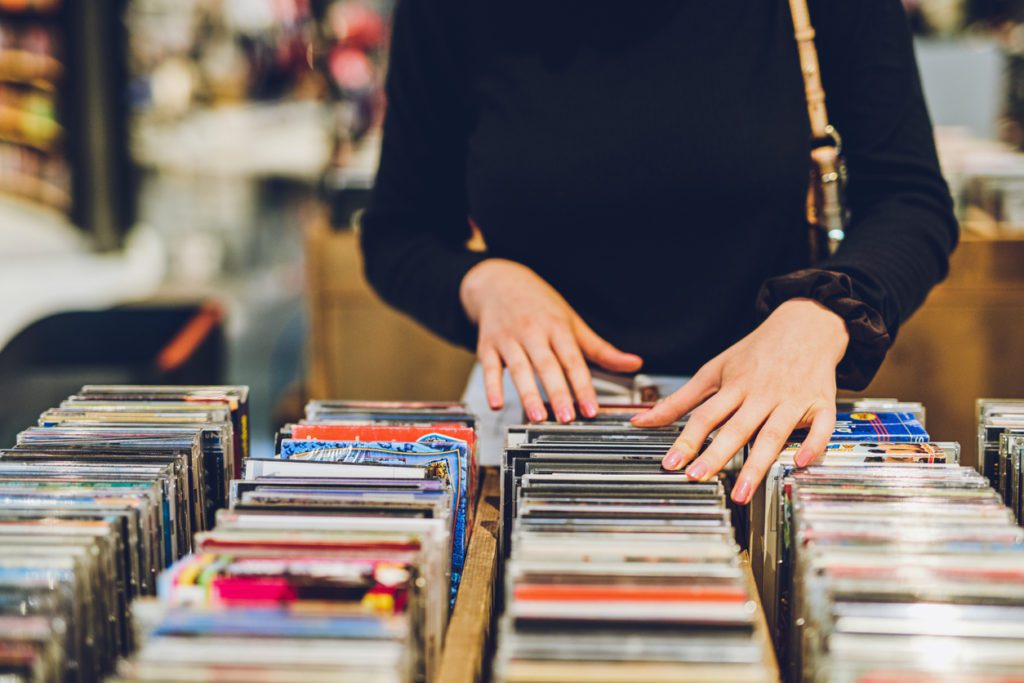 This is the effect that has created the disposable media culture of today. Conversely, physical records, CDs, and DVDs will always find a place in a collector's home as valuable permanent fixtures. Rare physical albums that never make it to a streaming service are a big part of these collections for many music aficionados. On the "Why Vinyl Matters" podcast, Sean Spicer describes his own personal experience of obtaining  Z-Trip's "Uneasy Listening" album which only had 1,000, four-record sets produced. Having the album personally autographed by the artist added even more personal value to this find. This is an experience that just cannot be had with streaming services.
An unfortunate side to streaming services is their focus only on playlists. There is no regard for the artist's career or how they inspire their listeners. As Dr. Bickerdale describes, instead, these services have created "a boneyard of disposable music."
Henry Rollins, former frontman of the band, "Black Flag" is a major proponent of collecting vinyl albums. He believes that to connect with a band's record, it should be something that can be held in your hands. In a quote from Dr. Bickerdale's interview with Rollins, he accurately sums the commercialism of music by saying, "what do you hope to get when you pull the album out of its sleeve? A coupon for a free Pepsi. Some music is merely an advertisement for what music can be and it never escapes the enclosure of its commercial goals, nor does it seek to."
Learn More About How Vinyl Recordings Can Save Our Culture
The ownership of physical record albums from our favorite artists has become somewhat of a rarity thanks to cloud technology. However, with a reemergence of vinyl albums, these collections are slowly beginning to make a comeback. Unfortunately, streaming music can cause us to feel we have lost true ownership of music and contribute to our disposable society, but it is a technology that is here to stay.
From streaming media to Azure migrations, we have extensive experience in many cloud computing solutions. Contact us for information on our cloud technology services today.