Agile IT, an industry-leading managed services provider, was recently named in Redmond Channel Partner (RCP) magazine's top 350 list of Microsoft Partners in the U.S. The list represents a selection of the strongest Microsoft partners in the country with attention to the company's technical focus. Agile IT's specializations in systems integration, managed services, Office 365 and Azure expertise, as well as artificial intelligence (AI), have earned them the coveted spot on RCP's list for several consecutive years.
As a four-time Microsoft Cloud Partner of the Year and Tier Three member of the Microsoft Cloud Champions Club, Agile IT is in the top 0.5% of the online services channel and a recognized best-in-class Microsoft Partner. Their combined 75 years of technical staff and consulting experience in Microsoft Solutions helps businesses implement innovative solutions and upgrades.
Award-Winning Microsoft Solutions
Awarded over 17 Gold Competencies encompassing numerous technical specializations, Agile IT has a proven record of assisting companies with successful critical upgrades and implementing cost-saving managed services. The following are just a few of the substantial benefits enterprises realize when partnering with Agile IT.
Cloud Platform Migration
As a gold cloud platform provider, Agile IT has successfully migrated more than one million users to the cloud. Transferring Office 365 and Azure licenses enables clients to receive several benefits. For example, weekly tech talks, project planning with an engineer, and more efficient Microsoft support. By migrating to the cloud with Agile IT, clients gain secure, consolidated information systems, reduced costs, improved application performance, and the ability to maintain control and flexibility.
Azure Site Recovery Services
Using AgileProtect, Agile IT ensures secure and reliable backup and recovery processes in the Azure cloud. AgileProtect works for desktops, laptops, servers, VMs, as well as Exchange and SQL Server. Clients select from varying levels of protection for each system, resulting in the reduction of unnecessary expenses. Storing data in the Azure cloud eliminates the purchase and maintenance of hardware while providing reliable, secure data.
OneDrive for Business
Using AgileOneDrive for a secure transition to the cloud, Agile IT moves files and documents to the client's OneDrive for a Business folder for both offline and online access. OneDrive for Business contains up to 1TB of storage with flexible file access. Then, share files securely using specific permissions to ensure authorized user access. Lastly, share files by creating file links sent directly from OneDrive for Business with email, instant message, or embedding it in a document.
Microsoft Volume Licensing
Agile IT will assist companies in selecting the most suitable Microsoft Volume Licensing option. Options include Open License, Open Value, Open Value Subscription, Microsoft Online Subscription Program, Enterprise Agreement, and Microsoft Products and Services Agreement.
In the Volume Licensing agreement, all Microsoft licenses are conveniently consolidated for one monthly fee. Agile IT assumes the responsibility of adding and renewing Microsoft licenses. Thus, enabling the client to save valuable time to focus on critical issues.
Okta and Lookout licensing is also available for management by Agile IT to provide an extra layer of security. Okta identity management uses a single sign-on, multi-factor authentication method for secured access to applications and devices. Lookout combined with Microsoft's Enterprise Mobility Suite offers enhanced protection from software vulnerabilities and mobile threats.
Enterprise Mobility and Security With Office 365
Simplified app delivery and deployment with a self-service company portal allow consistent app delivery experiences with Windows and iOS, Android, and Windows mobile devices. Clients can search and install corporate apps, manage devices and data, and customize terms and conditions. Mobile productivity increases by using Office 365's full-featured applications and secure collaboration. Then, the complete mobile enterprise is secured across the client's premises and cloud with multi-factor authentication.
Industrial IT Solutions
Using robust Microsoft technologies, Agile IT has successfully partnered with industries across several sectors. This includes government, finance and banking, healthcare, and manufacturing.
GCC High and Government Services
Agile IT is proud to be one of Microsoft's first authorized companies to provide Azure Government, GCC High Licensing, migrations, and managed support to Federal, State, and Local Governments. Additionally, Agile IT is only one of six Microsoft Partners approved to resell GCC and GCC High to government entities under 500 seats. This feature is ideal for smaller government contractors that lack the financial resources for larger-scale government clouds. As a CMMC-AB Registered Provider Organization, the company provides Microsoft's world-class security tools that meet the new NIST 800-207 and CMMC cybersecurity requirements. Indeed, government-specific productivity and collaboration tools enable secure communications, improved community outcomes, and efficient disaster recovery.
Finance and Banking
Agile IT utilizes secure cloud migrations, data loss protection, and other stringent security measures to protect finance and banking infrastructures. Using Microsoft Compliance Manager, a central dashboard helps manage information to measure compliance and confirm progress and identify issues. The dashboard enables the assignment, tracking, and recording of compliance activities. Additionally, the Compliance Manager simplifies the team collaboration process and document management. Create multiple assessments through the group functionality by time, team, or business unit.
Healthcare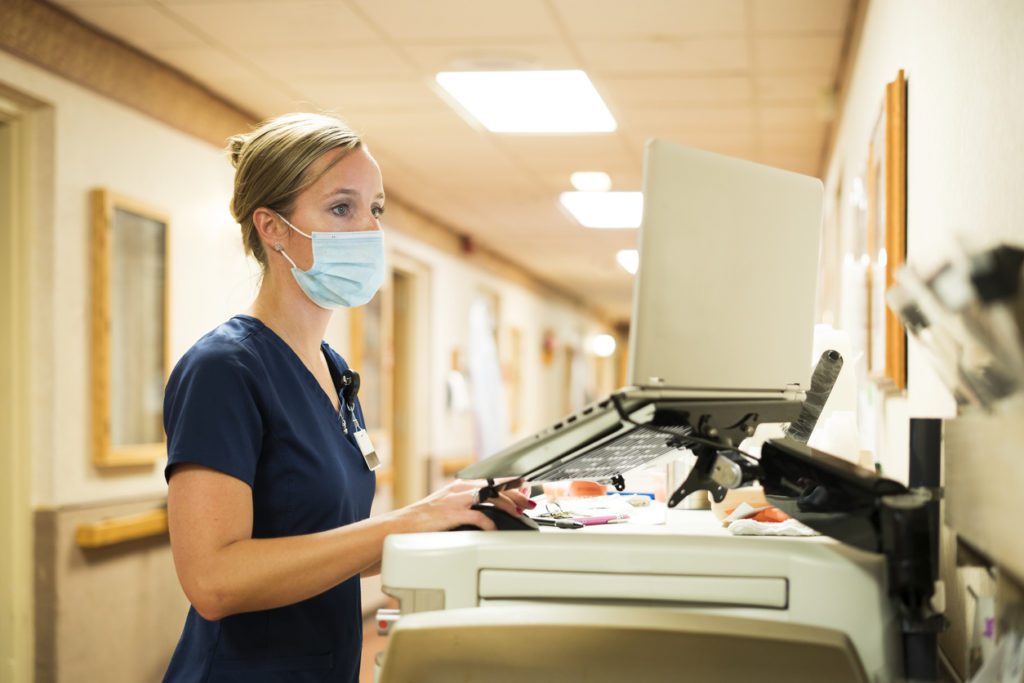 Registered nurse wearing a face mask while documenting a patient's medicine.[/caption]
Agile IT implements Compliance Manager for healthcare clients to ensure that HIPAA, HITECH, CCPA, and GDPR regulations are met. Additionally, onboard Microsoft Teams for increased protection against data leaks while providing an efficient collaboration tool.
Manufacturing
Microsoft 365 and Dynamics 365 provide Agile IT's manufacturing clients with increased productivity. In fact, they provide enhanced communication and robust business intelligence tools.
Work With an RCP 350 Top Microsoft Partner
RCP describes how the best Microsoft Partners "look at a customer's business and select the right technologies from Microsoft's wide range of sophisticated offerings, fine-tune them for their customer's needs and expertly enhance them with their own or other company's solutions." The Microsoft Partners on their list represent the strongest in the United States that should be considered for IT infrastructure upgrades.
Agile IT's inclusion in this year's RCP 350 list of top Microsoft Partners further underscores their expertise in successfully implementing managed service solutions across several industries.
Contact Agile IT for more information on how their innovative cloud-based technologies and other Microsoft solutions can help your business achieve greater productivity.