Back in April 2012, Microsoft announced that support for Windows XP and Office 2003 would end on April 8, 2014. While some companies immediately began planning upgrade programs to modernize their computers, others greeted the news with ambivalence – or missed it altogether. According to Microsoft, there are around 23 million US SMBs still using Windows XP and Office 2003 – and those companies are sitting on a time bomb.
From April 8, 2014, there will be no new security updates, no hotfixes, no free or paid assisted support options and no online technical content updates. While it may be tempting to think "It works so why should I worry?" there could be severe consequences for anyone who doesn't upgrade.
Microsoft confirms that running Windows XP and Office 2003 after their end of support date may expose your company to potential risks. Running unsupported and unpatched computer systems can result in the loss or exposure of data, including personal information.
If you think this just scare-mongering by Microsoft to try and get more sales, think again. Agile IT's CEO and security expert, John Gilham, told me, "The word on the streets is that a number of hacker groups are already working together to find exploits to take advantage of possible vulnerabilities in [Windows] XP and Office 2003, and with the sheriff out of town, there'll be no one to stop them."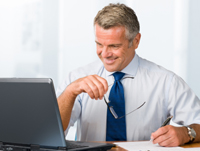 But it's not all doom and gloom. Agile IT are poised to step in and restore order. As a Microsoft Cloud Partner of the Year and top-tier member of the SMB Champions Club, Agile IT has a number of resources – and offers – at its disposal to help companies upgrade to a secure environment. "We know that licensing can be confusing", John said, "But our Licensing Specialists can help companies upgrade to the latest versions of Windows, Office 365 or Office 2013 in the most cost-effective way."
[biginfopane textcolor="#FFFFFF" color="#0079C1" title="Let Agile IT help you with your next step" href="/about/connect/" button_title="Contact Us" full_width="true"]Call Agile IT today for all your licensing needs.[/biginfopane]