One of the biggest questions customers ask when choosing between Windows 365 and Azure Virtual Desktop is which solution they should go with. The answer lies in understanding your current and future architecture to inform your lead purchasing decisions. You can choose either Windows 365 or Azure Virtual Desktop because they both offer cloud computing environments.
As a quick overview, Windows 365 is great for companies with low IT requirements because it's simple to set up and use and reduces your compliance overhead. On the other hand, Azure Virtual Desktop is a great solution if your organization already has VDI experience, a large fluctuation of usage, and requires support for legacy application architectures.
Why you're here…
You're focusing and wondering about the best government solution for overall security and user experience. Some of the scenarios influencing purchasing decisions include:
Remote workers for government projects
Contractor access
Multiple tenants
Legacy application and systems access
Cost management per infrastructure or user and the impact on IT staff
Let's take a closer look.
Modern Desktop and Device Environments ( Windows 365 and Azure Virtual Desktop)
The Microsoft platform has evolved tremendously over the years and continues to invest in cloud computing, which is why at Agile IT, we insist upon our customers to continue leveraging these amazing solutions. Below is a look at Microsoft's modern desktop and devices cloud infrastructure:
Microsoft 365 features SharePoint, Teams, and OneDrive
Both desktop platforms are managed through Microsoft services and policies
Both feature device independence
Offer a consistent experience with local and remote-managed desktops
Microsoft AVD and Windows 365 also offer the following features and services
Desktop as a service
Support mobile devices
Managed desktop services
Managed devices such as universal print and managed phones
Windows delivery models offer options for maximum flexibility. What's more, Microsoft is using common elements as the active directory without the need for a local active directory, giving users fewer things to manage.
Windows 365 and Azure Virtual Desktop: Microsoft Cloud Solutions
1. Windows 365
Windows 365 is an innovative cloud-based service from Microsoft that automatically creates a new type of cloud PC (Windows Virtual Machine) for your end users. It assigns each cloud PC to an individual user and becomes their dedicated windows device. It provides the productivity, collaboration, and security benefits of Microsoft 365. Windows 365 is available in two editions based on customer preferences:
Windows 365 Business is made for smaller companies
Windows 365 Enterprise for larger companies
Furthermore, Windows 365 is optimized for user experience:
Support Windows 10 and 11 personalized desktop
Offers a complete end-to-end Microsoft service
Predictable per-user pricing
Direct self-service model for the business edition
One-stop administration in Microsoft Endpoint Manager for the Enterprise edition
2. Azure Virtual Desktop
Azure Virtual Desktop is an app and virtualization service running on the cloud. You can use it to:
Set up multi-session Windows 10 and 11 deployment delivering a full and scalable windows experience
Virtualize apps and desktops
Manage apps and desktops from different Windows servers with a unified management experience
Present and optimize Microsoft 365 apps for enterprise for multi-user virtual scenarios
Bring existing Windows Server apps and desktops and Remote Desktop Services (RDS) to any computer
In short, Azure Virtual Desktop allows users to set up scalable and flexible cloud computing environments. It's optimized for flexibility in the following ways:
Supports Windows 10 and 11 and Windows Server multi-session desktops
Supports Citrix and VMware
Full configuration and management control
Remote app streaming
Consumption-based pay
3. GCC High vs. Azure Government
Azure Government is a mission-critical cloud delivering breakthrough innovation to U.S. government agencies, customers, and their partners. It's only accessible to U.S. federal, state, tribal, and local governments and their partners with all operations controlled by screened U.S. citizens. It provides the broadest certification level of any cloud provider to help simplify critical government compliance requirements. Microsoft 365's Government Community Cloud (GCC) High is a secure cloud platform used by cleared organizations and personnel supporting the Department of Defense. US-based Microsoft Cloud servers host GCC High and it compliments Azure Government.
Windows 365 and Azure Virtual Desktop: Guide to Selecting the Right Cloud Solution
Selecting the right Microsoft cloud solution depends on what you want and need. If you want a cloud PC with a completely facilitated SaaS Microsoft service and no VDI skills required, you are better off Choosing Windows 365. Opt for the Business edition if you have less than 300 users and the Enterprise edition for a fully unified endpoint management solution.
Azure Virtual Desktop is right for your business if you are looking for a full control solution with a cloud VDI platform and have the Azure IT and VDI skills required to set up and manage.
Some of the things to consider include:
The pricing models – per user, per month, or consumption-based
IT skills and experience – endpoint management, general IT, VDI, or Azure expertise
IT priorities – for example, will you shift to higher-value IT projects soon, are you modernizing existing VDI Azure or using existing VDI investments for cloud benefits?
Are you doing business with the government or the Department of Defense
1. Windows 365 Enterprise Simplifies Management
Windows 365 Enterprise edition simplifies management by providing a unified endpoint for physical PCs, cloud PCs, and mobile devices. It deploys and manages cloud PCs using Microsoft Endpoint Management (MEM) offering a complete SaaS solution. It also leverages existing modern management without the need for VDI skills and supports Windows 10 and 11.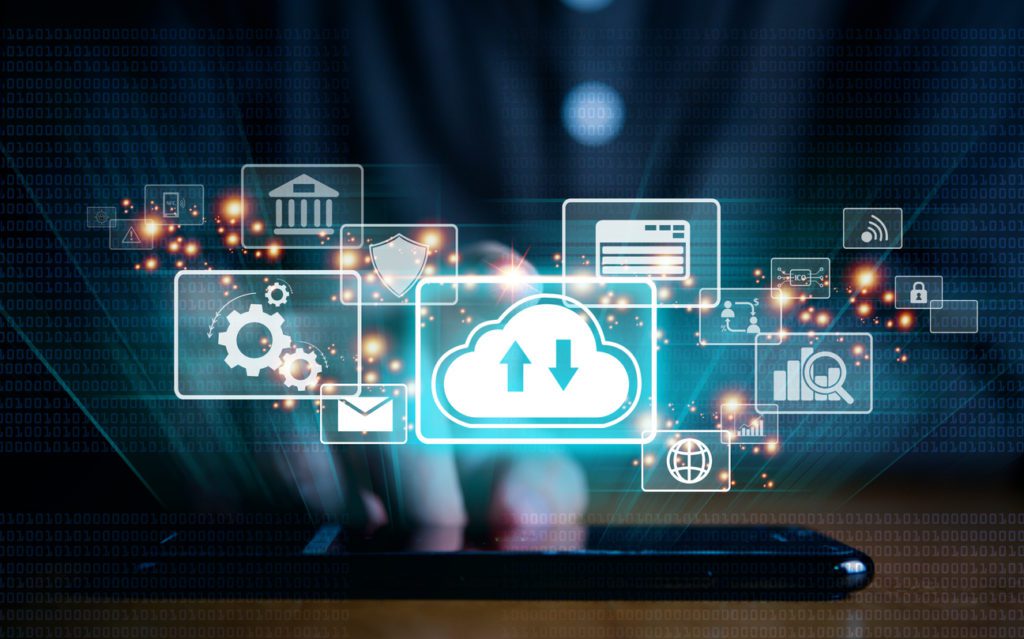 2. Microsoft Cloud Desktop Virtualization Options
Microsoft provides two cloud desktop virtualization options as discussed above: Windows 365 and Azure Virtual Desktop.
Windows 365 is a complete SaaS service optimized for the user experience that securely streams personalized Windows desktops, applications, content, and settings from the Microsoft Cloud to any device. It:
Does not require VDI skills
Supports Windows 10 and 11 personal desktops for single sessions
Has a simplified cost model with predictable per-user pricing
Is a one-stop administration center with MEM (enterprise edition) and a self-service portal (business edition)
Optimized for windows experience
Has fast provisioning and ramp-up
Is a cloud-native solution
Optimized for security and remote or hybrid working
Has a simplified setup
Azure Virtual Desktop (cloud VDI) is optimized for flexibility and delivers hosted desktops and applications to any device. It:
Requires full control over remote or hybrid desktop and application virtualization skills
Supports Windows 10, 11, or Server pooled and personal desktop sessions
Optimizes costs with multi-session support and Azure VDI consumption-based pricing
Maximizes flexibility for maximum control
Has expanded Citrix and VMware environments for multi-cloud and hybrid environments
Deploys remote apps streaming
Has control data residency requirements for regulated industries such as Azure Governments
3. Top Questions to Help Make the Right Choice
Below are some of the questions to ask when selecting the right option:
Do you or your staff have the right VDI skills and experience?
Do you need a predictable monthly pricing schedule or do you prefer a consumption-based (pay-as-you-go) pricing model?
How many end users do you have and what is their frequency of accessing the virtual desktop? Can they share a virtual machine?
Do you have any regulatory compliance requirements to consider? And do you need control over the location of your cloud desktops?
Are you a desktop-as-a-service (DaaS) user or considering it?
Do you have Citrix of VMware investments you need to keep?
Do you wish to use remote application streaming for your legacy app compatibility?
Are you considering a hybrid cloud environment?
Do you have GPU and high-performance app requirements?
Windows 365 and Azure Virtual Desktop: Key Considerations and Challenges
Below are some critical considerations when choosing between Windows 365 and Azure VD:
Windows 365
GCC High customers have less flexible pricing options
Offers predictable pricing schedules
Leverages new capabilities with minimal change or impact on users and IT infrastructure
Has an easy setup with no VDI skills requirements
Azure Virtual Desktop
Azure VD is mostly consumption-based
Users whose license has "Virtual Desktop Rights" such as Windows E3 have their VM pricing based on Linux VMs
Direct management is directly proportional to compliance overhead (process, policy, evidence, etc.)
Summary
Azure Virtual Desktop (AVD) utilizes the Active Directory identity management service. It provides virtualization infrastructure to users as a managed service and deploys and manages VMs in Azure subscription. Users use existing management tools such as Configuration Manager or Microsoft Intune. It supports the following:
All GCC High & No Local Active Directory
All GCC High & Local Active Directory
Multiple Tenants & No Local Active Directory
Multiple Tenants & Local Active Directory
Windows 365 for Enterprise offers versatile options to meet user needs. It allows access from various operating systems (Windows, Android, or Mac and iOS) and devices. It's also compatible with Windows 10 and 11 and offers a range of compute and storage configuration options with a predictable monthly per-user price.
As you can see, architecture influences decision-making. Windows 365 is less complex and does not require VDI skills or a Local Active Directory while Azure VD adds IT complexity and integrates with traditional IT services.
Agile IT focuses solely on Microsoft Cloud Services to deliver strategic consulting and technical implementation via a single trusted vendor to customers. Schedule a consultation today.