As an enterprise, there are a couple of IT challenges you must grapple with. For starters, handling the challenges involved in transitioning to the agile world of software as a service. While dealing with this daunting situation, you also have to deal with users that want an empowered, connected work experience. This comes at a time when current IT management and security processes are outdated, time-intensive, and expensive. A solution to all these challenges? A Cloud Managed Desktop. This enables the business to address these challenges while still focusing on what makes the enterprise uniquely successful.
Specifically, Microsoft Managed Desktop is a cloud-based service that brings together Microsoft 365 Enterprise. This includes Windows 10 Enterprise and Office 365 Enterprise. This service adds user device deployment, IT service management and operations, and security monitoring response. With the tool, users can enjoy the latest versions of Windows 10 and Microsoft 365 Apps for enterprises. These have been successfully curated and rigorously tested for the best performance and reliability. As the software updates automatically, you never have to worry about being up to date, which further adds to the charm of getting onto this service. Besides, you can monitor all of your devices throughout the day. This means that just in case something goes wrong, help is on the way.
Windows 11 Cloud Managed Desktop
Granted, there's not much stopping you from actually obtaining and subsequently managing your own mobile devices using Microsoft's Intune for mobile devices, Microsoft 365 or Azure Virtual desktop. That raises the question as to what then the Windows 11 Managed Desktop offers you as you get ready for Windows 11 Enterprise.
From the IT admin point of view, the benefits you can leverage are from first off having an insights dashboard. From this, stay up to date with usage, reliability, device health, and any additional data. Additionally, your update time is reduced to about one-tenth of the initial duration. This translates to having additional time to focus on other IT admin activities. Finally, using the Windows 11 Managed Desktop platform means that you have awareness of device and app performance. Thus, providing you the opportunity to have an early warning of security issues.
Notably, the Managed Desktop takes care of the burden of having to manage registered devices and Windows 11 itself. For starters, your team no longer has to research and figure out what devices are compatible with the service. You can find recommended devices and easily register these with the option of customizing different aspects of the experience you have as a user.
Updates for the Cloud Managed Desktop
When it comes to updates, the Managed Desktop makes it possible to set up and manage all aspects of deployment, updates, drivers, firmware, and antivirus definitions. Finally, by simply deploying this platform, your IT department is saved from having to test, package and deploy any apps as the Microsoft team helps you with deploying these through the FastTrack program.
Other than helping with the deployment and management, device monitoring also exists. Indeed, the Microsoft team has a security operations center where they monitor devices linked to your business. Staying competitive means seeking out a solution that has these security features built-in instead of adding them on later.
Compliance With Cloud Managed Desktop
[caption id="attachment_164042" align="aligncenter" width="640"]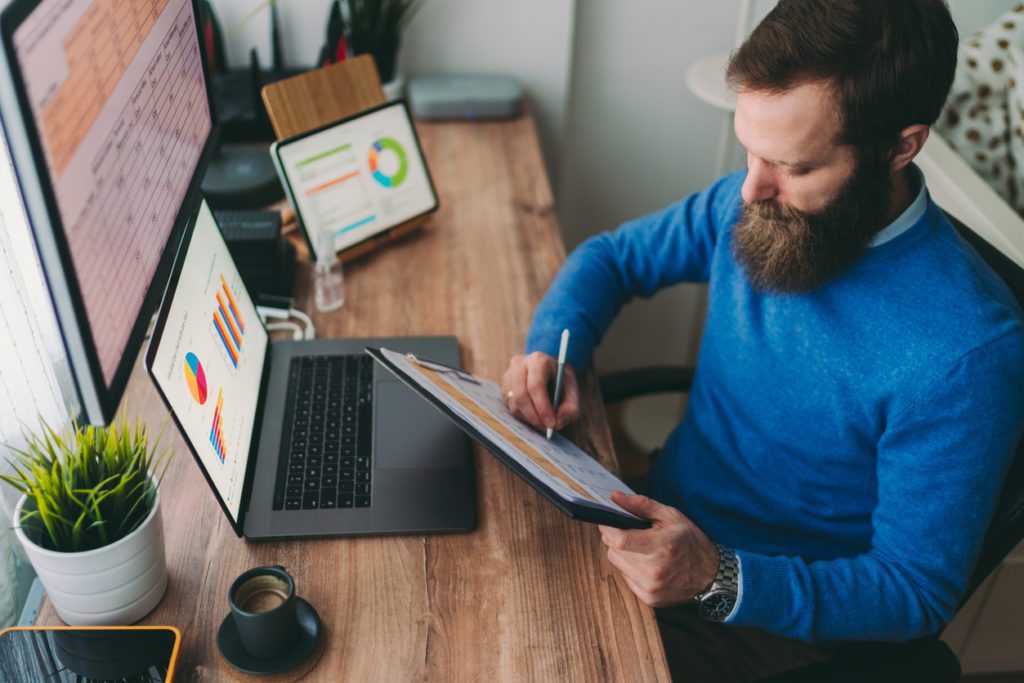 Above view of businessman working at home.[/caption] Keeping up with the different facets of compliance can be quite daunting. Fortunately, when you use Microsoft Managed Desktop, you have a comprehensive set of compliance offerings. Specifically, this set covers you with various compliance requirements, including:
ISO/IEC 27001:2013 Information Security Management Standards
This family of standards outlines the hundreds of controls and control mechanisms that should be able to help your organization keep its information assets secure. At its tenet, it is a security standard that lists how best to implement, monitor, maintain, and continually improve the Information Security Management Systems (ISMS).
ISO/IEC 27701:2019 
This standard is built to complement ISO/IEC 27001 and ISO/IEC 27002, which collectively specify the requirements and guidance for a Privacy Information Management System (PIMS). Overall, this ensures that you have a strong integration point that aligns both security and privacy controls. Note that it accomplishes this by providing a framework that manages personal data.
ISO/IEC 27017:2015 Code of Practice for Information Security Controls
When your enterprise is on the verge of implementing a cloud computing information security management system, based on ISO/IEC 27002:2013, this guidance document provides you with a reference for selecting cloud services information security controls. Using the guideline, you should be able to address cloud-specific information security threats and risks.
ISO/IEC 27018 Code of Practice for Protecting Personal Data in the Cloud
This standard gives specific guidance on how best to assess risks and implement state-of-the-art controls for protecting Personally Identifiable Information (PII). With Managed Desktop, you are assured that your data is stored from any prying eyes and that the same will not be used for marketing or advertising without your consent. Overall, as a platform user, you are more confident about what's happening with your personal data.
ISO 9001:2015
This standard establishes the criteria for a quality management system. It stipulates the management principles for strong corporate governance and leadership commitment. As an enterprise, consider leveraging Azure ISO 9001 for your own quality management requirements. Indeed, it should gel with any sector-specific standards.
Learn More About a Cloud Managed Desktop
Assure additional standards for your enterprise in compliance by simply deploying the Managed Desktop. Then, include Cloud Security STAR attestation and certification, Service Organization Controls 1, 2, 3, Information Security Registered Assessor Program, Payment Card Industry Data Security Standard, HIPAA, and HITRUST. Remain cognizant of the compliance for cloud services is a shared responsibility between your cloud service provider and yourself. What's more, although not listed, Cloud Managed desktop can be used to meet controls found in NIST 800-171. Agile IT can provide easy onboarding to cloud-managed desktops using Windows 10 or 11, cloud-hosted desktops with Windows Virtual Desktop or Windows 95, along complete mobile device management from a single pane of glass.