One of the biggest challenges for any organization is maintaining the proper security standards while adopting a new process, procedure, or tool. It involves coordinating between multiple team members, infusing those team members with new information, and maintaining the status quo so no business operations are impacted during the adoption process. Undergoing this sort of change management process can have multiple obstacles including keeping productivity levels up while security doesn't suffer.
But there is a way to do both, and it's through Microsoft Teams. It's a tool that through its enhanced security features can help drive and optimize the change management process.
The False Conundrum of Security vs. Productivity
Often, teams will look at the challenge of improving security and productivity levels as an "either-or" dichotomy. They'll operate under the notion that they can have one, but not both. Increased security will prove burdensome to the team's productivity. Conversely, to remain productive, some teams assume they'll need to eschew good security practices.
The truth is that not only improved security and compliance in Microsoft Teams be a seamless process, but it can also help increase your team's productivity as well.
Security Assertion Markup Language
One capability of Microsoft Teams is that it offers Security Assertion Markup Language (SAML) to allow for single sign-on. This essentially means that you'll only have to log in once throughout your entire enterprise and can remain logged in provided you've verified yourself adequately. It also means you can extend identity protection to other SaaS applications as well.
Microsoft Teams
You'll never have to worry about maintaining compliance with Microsoft Teams, either. It's built using the exact same information protection architecture as the Office 365 Substrate. Teams has a variety of compliance capabilities including an archive, content search, eDiscovery, auditing and reporting, legal hold, data loss prevention, advanced threat protection, and multiple others.
Microsoft Teams can also generate automatic compliance warnings during document review. This helps simplify the review process, bringing potential compliance issues to the forefront so they can be addressed right away.
While simplified security measures can help productivity, the opposite can also be true. Your team's increased productivity can help be a driver of better security practices. Microsoft Teams allows colleagues to discuss any potential security issues they may face as well as best practices for dealing with them.
Additionally, having every user working together in a single, consolidated environment streamlines the team's workflow. By not having your team members logging into disparate platforms to share and review documents, you decrease the likelihood that your data will fall into the hands of malicious actors or be shared in an inappropriate place. You keep everyone on the same page, working in the same secure space.
The Challenges of Adoption and Change Management
One of the most critical components of change management when adopting a new system, platform, or procedure is getting user buy-in before, during, and after the transition phase. To get buy-in, you need to make the various processes associated with the change as simple and easy to understand as possible.
Easier Log In
The first step to making the adoption process easier? Making it easy for users to log in. It sounds obvious, but it's an important step in making the change management process less daunting. Single sign-on is key for making things easier for users. One of the most basic capabilities your team will need is to get in and out of the various components of Microsoft Teams quickly; single sign-on in Microsoft Teams allows for that.
Central Location
Another way in which Microsoft Teams paves the way for easier change management is that it gives the team one central location for all collaborative work. Having that single hub means users spend less time jumping between various applications. They have everything they need to be housed in one app - internal communication, document review, meeting scheduling, and a whole host of other capabilities.
Buy-In
The users aren't the only ones you'll want to get buy-in from. You'll also want to get your executives on board, and Microsoft Teams can help there as well. Getting buy-in at the highest levels of your organization is critical when deploying a new tool. You'll need their assistance in removing roadblocks, championing the initiative to other executives, and showing enthusiasm that trickles down to the users throughout your organizational chart.
Security
How do you get this executive buy-in? By demonstrating that the added security and data governance capabilities in Microsoft Teams provide a chief information officer, chief technology officer, or chief security officer the motivation needed to go to bat for a new platform. By providing a secure value, adopting a new tool won't expose the team to vulnerability. No matter what the change you're team is managing, Microsoft Teams' added level of security will help keep your organization's bottom line from suffering.
The Productivity Risks of Shadow IT
When an organization allows its users to define the various platforms and systems the individual team members use as opposed to having a uniform system, that's known as "shadow IT". Obviously, this can present a significant security risk because it means every person could potentially be operating with a different IT platform. However, security is not the only risk associated with shadow IT.
Communication
It can also create an environment where information is siloed. If one team member uses Slack and the other uses Jive to communicate, and neither has an account for the other, that's a problem that could lead to organizational confusion. How do you pick the platform to go with when different team members champion different platforms?
Issues with communication due to differently configured IT platforms can create significant IT labor overhead as well. Imagine having a team of five that uses five different cloud document storage solutions. IT issues could lead to team members having to educate themselves quickly on a platform with which they're unfamiliar. It could also leave your IT department scrambling to troubleshoot IT problems with multiple types of platforms. Even worse, if the document is corrupted, it could potentially spread a virus or malware to every document on not just one cloud software, but five.
"Tribal Knowledge"
There's also the matter of "tribal knowledge". Also known as institutional knowledge, this term is typically used to describe a team's operational information passed down by word of mouth without necessarily being recorded anywhere. It's informal and uncodified. This has the potential to be catastrophic if the team member responsible for managing the platform leaves without a written record of how to do so. It could leave work orphaned, cutting off the rest of the team's access to their own projects and documents.
When everyone is using the same tool, the added security associated with this can help drive productivity. Departments can easily share data. Teams can then grant access to sensitive information based on specific roles with the need to access specific information.
Using Security to Drive Productivity
[caption id="attachment_162293" align="aligncenter" width="640"]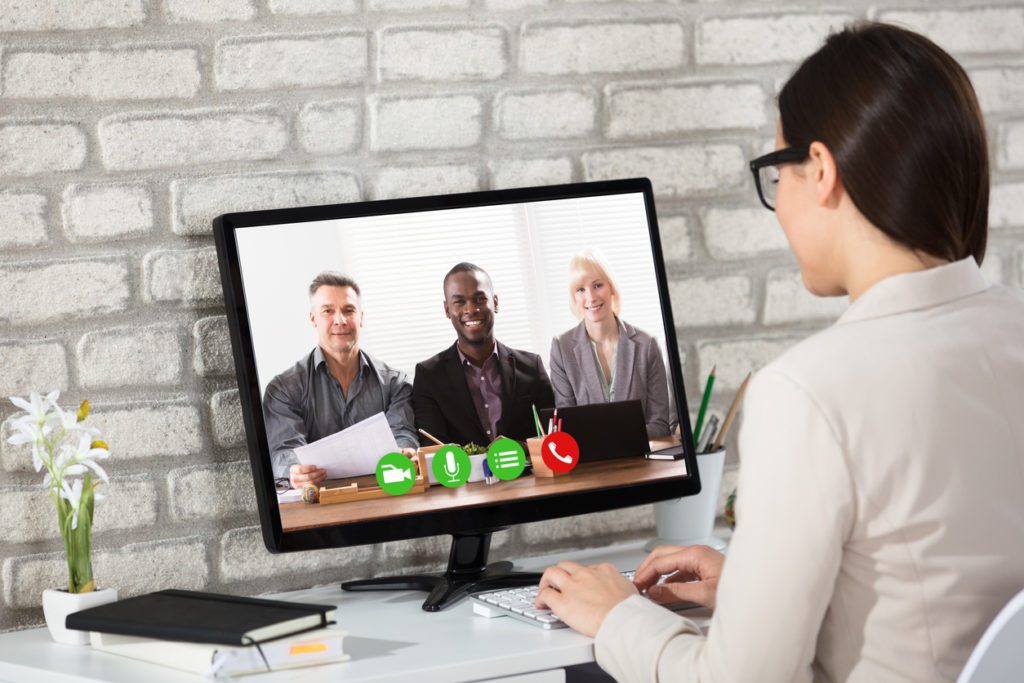 Video conference with colleagues.[/caption]
When we talk about how security drives productivity, there are two primary ways in which it can do so:
Training
Adopting a new system or team-wide practice will no doubt involve some degree of training. You'll have to schedule learning sessions, coordinate with multiple team members, and disseminate documents or other training materials. Much of this information may be proprietary or sensitive, so you may not want it to be vulnerable to becoming available publicly.
With Microsoft Teams, you can perform all the functions associated with a seamless training process in a secure environment. The best part is that it makes the entire process less cumbersome on your team. Rather than making them use multiple platforms for multiple actions, they can have the entire experience under one virtual roof.
Exposure to New Collaborative Tools
Microsoft Teams also exposes your organization to a number of new collaborative tools. The platform has four major features businesses can use to collaborate securely and effectively:
Teams. This allows you to segment your work by creating multiple "teams" within a project or organization.
Messaging. Within individual teams, team members can communicate with instant, direct messages. This is great for one-on-one collaboration on issues two team members need to address quickly.
Calling. Sometimes, email or direct messaging isn't enough. With Teams, team members can call one another or host video teleconferences with multiple attendees.
Meeting. Teams can be used to schedule in-person or virtual meetings with any team members.
The great part about Microsoft Teams is that it puts all the collaborative mechanisms your team uses within one secure platform.
For more on how security in Microsoft Teams can help your team with its next transition requiring change management, contact us today!