Innovation isn't necessarily born out of C-level boardrooms littered with coffee cups and whiteboard markers. In fact, some of the most useful business creations come from base-level employees, who directly face the problems that these innovations can help tackle. Finding creative ways to solve everyday problems can both empower employees and impact their overall quality of work.
When we look at companies who have a culture that's considered "highly innovative" they have 11% higher revenue (on average). Unfortunately, 31% of employees think that their company's culture is an obstacle that prevents them from being innovative.
Today, we're going to look at how emerging technologies like Microsoft PowerApps and Microsoft Flow can help you instill a culture of creation and innovation. What's more, you can learn how you can position these technologies in a way that will help you disrupt your regular processes to provide employees the tools and means of creating wonderfully engaging solutions to their everyday problems.
Empowering Users to Drive Change
Why should you rely on your first line workforce to empower creative changes in your workplace? Well, for starters, they're the people that face many of the everyday problems that you should be seeking to solve. When they run into an issue or make a mistake, they have a critical opportunity to introduce change in a profound way.
Your first line workers know what issues your company faces on a personal level.
They are entirely aware of what processes take the most time and effort, and they're in the perfect position to restructure those issues using technology to save time and money. Not only are they more "in-tune" with the issues and better suited to come up with a solution to those issues, but they are also in the perfect position to test innovations quickly and introduce the necessary tweaks that make those innovations more useful.
Unfortunately, in the past, most tech innovations were too complex to be introduced by your first-line workers, and the bulk of the responsibilities fell on engineers or programmers — who weren't necessarily facing many of the same daily challenges. This creates implementation friction, where apps and workflow tech are created via hypothesis and base-level understanding of the problem but fail to achieve the desired change. Microsoft PowerApps and Flow are the perfect technologies to address those implementation pain points and give first line workers the power to express creative change firsthand.
What is Microsoft Flow?
At its core, Microsoft Flow lets you automate workflows. In today's tech-driven environment, most businesses have a tech stack that can be overbearing, and, if you aren't automating processes effectively, your tech may end up swallowing a large chunk of employee time. Most of the programs that we use today have some level of automation built-in, but it's not targeted. Finding a way to strategically automate the processes that are unique to your business is a critical step towards reducing all of the mundane, repetitive tasks that employees are forced to deal with daily. Microsoft Flow helps you automate those business events throughout your stack in a hyper-effective and super-personal way.
Of course, Flow isn't the only automation software on the market. Tools like IFTTT and Zapier can help address similar pain points by automating business processes, but Flow exists within your Microsoft 365 tenant — so users don't can immediately start creating workflows using their current accounts and permissions.
What Can You Do With Microsoft Flow?
With Microsoft Flow, you can address those mundane tasks head-on. So, if your HR department is forced to create a new task every time that they flag an email, Flow can automate that process for them. Or, if your legal deals with tons of email attachments, Flow can automatically save attachments to a specific One Drive location. You could even create a flow that lets your marketing team add anyone (based on parameters such as follower count) that tweets about your company to MailChimp and Microsoft Dynamics. Flow is meant to handle those repetitive tasks that are specific to your business.
Once again, your first line employees are fully aware of all of these mundane tasks that they're forced to deal with daily; Flow gives them the power to start automating them, which provides employees with more time to do the important stuff.
A few examples of how you could use Flow:
Announce new wins from Salesforce in Teams.
Automatically save attachments in outlook to a one drive location.
Send a custom email when a new file added in SharePoint.
Create a new task when an email is flagged.
Save tweets with a specific hashtag to a SharePoint list.
Synch Trello with MS Planner.
Resource to help you get started with Flow:
What is Microsoft PowerApps?
PowerApps lets users create business applications targeted at specific internal items with little-to-no-coding (low code/no code) necessary. You can connect these apps to an internal CRM or AX and share the app between Office users. So, anyone in the business can create an app aimed at specific processes in their line of work and share it among colleagues who work on the same functions. While first level employees will generally create PowerApps at the excel function level, successful apps can be passed off to developers for deeper integration. B
asically, Microsoft PowerApps gives anyone the power to create business apps.
What Can You Do With Microsoft PowerApps?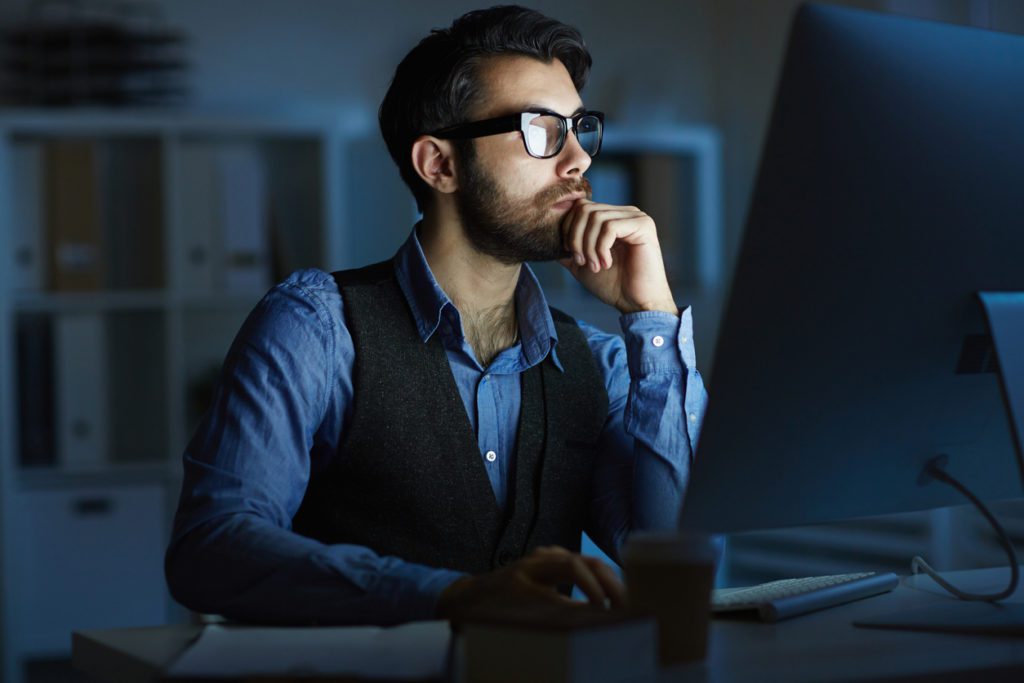 Concentrated entrepreneur sitting by desk in front of computer monitor while working at night.
Here's the great thing about Microsoft PowerApps, you can use Common Data Services so that all apps created by all users share the same definitions of "customer", "lead", "product", "service", etc. This means that any employee can create an app that helps them navigate through specific business needs without the need for expensive infrastructure or IT architecture.
What you can do with PowerApps is nearly limitless, here are a few ideas:
Have better processes for connecting users to SharePoint Online.
Create apps aimed at better data visualization.
Create apps that help you reduce basic manual inputs (wherever that may be).
Resource to help you get started with PowerApps:
Encourage Your Users to Innovate
While Microsoft PowerApps and Flow are the tools that your employees can use to create amazing innovations, your culture is the force that drives them to actually pick those tools up. Again, both PowerApps and Flow are natively tied to Office 365, which means that you don't have to add new items to your stack, and the initial "Oh no! It's new!" frictions should be minimal. But, how do you shift your culture towards innovation? How do you push your employees to be creatives in the emerging tech landscape when they're used to the office production line of the past?
Understand your limitations. Some employees are simply happy working within the status quo. Of courseThere are no bad ideas, you need employees like this, and each cog is an integral part of your overall machine. So, don't try to push everyone to innovate if they have serious pain points regarding a change. Focus your time and energy on the employees who are ready to innovate and create.

Enable your employees. Let your employees know that you're always on the lookout for better ways to do things. Whether that be products, processes, models, or even workflow structure, make sure that everyone knows that you're open to new ideas. Dynamics 365 will be their toolset; you need to be their leader. Encourage them to use the tools to build a bigger brighter future.

There are no bad ideas. If you want to encourage your front-line to take the reigns and make significant changes to your business architecture, then you have to let them know that they won't be punished for creative mistakes. If that new app doesn't work, let them keep trying. Don't start to ridicule or penalize employees for attempting to create a better working environment.

Set up some meetings. Get those employees who do want to start innovating in a meeting with IT. Let them bounce ideas back-and-forth so they can get a sense of what's realistic and achievable.

Reward them. Encourage employees to look through their daily tasks and put on their creative goggles. Give them the encouragement and motivation to see the world through an innovative lens. You can do this with compensation, encouragement, gifts, or even something as simple as an acknowledgment.
Conclusion
We're betting that most of your reading this already have Office 365. If so, Microsoft PowerApps and Flow are a great way to spark employee interest in innovation. They can immediately create technologies that can drastically impact the way that they work — saving them time and your money.
The world is changing. Technology is reducing all of those mundane tasks and empowering employees to create and engage freely. By promoting a culture of innovation and creation, you can become more efficient, profitable, and successful together.
Office 365 is part of the Modern Workplace, but digital transformation requires more than owning the tools. You must use them effectively to disrupt your own processes and find new ways of doing business. Agile IT has been fueling digital transformation for over a decade and can help you find new opportunities to grow and scale with emerging technologies, always with a fixed price guarantee. Book a call today and find out more!