135,000 groups, 60,000 teams, 200,000 One Drive for Business Accounts. Teamwork has never been more important as businesses compete on a global scale. These numbers are from Microsoft's own collaboration environment, where Microsoft trusts its own product for managing a global team. Whether you are looking at thousands of employees or hundreds, Microsoft 365 provides the collaboration tools necessary to manage a significant business.
Microsoft has put together a true cloud-based solution for business collaboration across global organizations. It manages document management to teams and sites, social media, and data security. Indeed, Microsoft 365 provides software tools for your organization to manage any team. Continuing Microsoft's recent commitment to Open Source principles, Microsoft 365 has the capability for integrating 3rd party apps and software.
Overview of Microsoft Teams
Microsoft's collaboration platform integrates several core software systems: SharePoint, Office 365, Yammer, Microsoft Teams, Office 365, and Outlook. Together, Microsoft 365 tools are ideal for managing multiple employees on and offline, around the world. Since this platform is incredibly diverse and complex, it is difficult to see how it works alone and in conjunction. This post will explore the basics of Microsoft 365, the software involved, and how your business can increase collaboration.
What Is Microsoft Teams?
Microsoft Teams uses Office 365 Groups, and Azure Active Directory (AD) to manage identification and security technology. Teams is designed to meet Microsoft's commitment to "empower every person and organization on the planet to achieve more". Since no two teams are the same, Microsoft Teams is designed to be a "client interface on top of other services that provides agile, real-time communication and collaboration for teams".
Microsoft Teams will replace Skype for Business as Microsoft modernizes their software offerings in the post cloud global computing industry. Teams provides the online space for facilitating communication, file sharing, and information created in other Microsoft software, 3rd party apps, and AI bots. As shown in the logical architecture of Microsoft 365, Teams management can be done as is, but most likely will include at least Office 365 teams, SharePoint team sites, OneDrive for Business, Mailboxes, and possible Stream and Planner.
SharePoint Sites
SharePoint provides the environment for managing "content, knowledge, and applications". Setting up a SharePoint environment for Microsoft 365 provides the site for managing your collaborative tools and apps. SharePoint currently has templates for two types of sites, communication, and teams. Communication SharePoint templates are designed to have a small number of content creators publishing content for your entire organization. Team sites are designed for full collaboration across your organization.
SharePoint team sites are each connected to a team that is managed by Microsoft Teams, and document management is provided by Office 365 while communication is managed by Outlook.
OneDrive for Business
OneDrive for Business is a key modern tool for data management. Backups, cloud storage, and the ability to access documents from anywhere are all essential parts of building collaborative teams. Anyone who worked on documents 15 years ago remembers the endless email threads of minor document edits. Often the document that finally was published was not the end product, but some middle document with all the typos and design problems still in it.
OneDrive for Business removes this type of problem. Real-time collaboration, single file storage with controlled access, document revision history and backups all make OneDrive an essential file storage platform. Collaboration without real-time document and file management is nearly impossible and incredibly difficult.
OneDrive for Business brings teams together. Thus, files are managed with improved security and collaboration.
Yammer Social Media Platform
When it comes to social media, corporate policy is always difficult to set. Businesses want to use social media to improve collaboration and communication, but social media sites are difficult to manage. That is where Microsoft's Yammer become a key part of collaboration taxes. This overview of Yammer shows how corporations can use Yammer as an internal social media platform. Limiting users to people with corporate domain emails and paying for access to the software, businesses are given control over both the users on the platform and the data passed through Yammer. Rather than worrying about a social media platform mining user demographics, Yammer brings all the wonderful aspects of social media. For example, Yammer has real-time global communication, groups for passionate collaboration. Further, Yammer provides them without the costs and risks of 3rd Party apps.
Office 365 Groups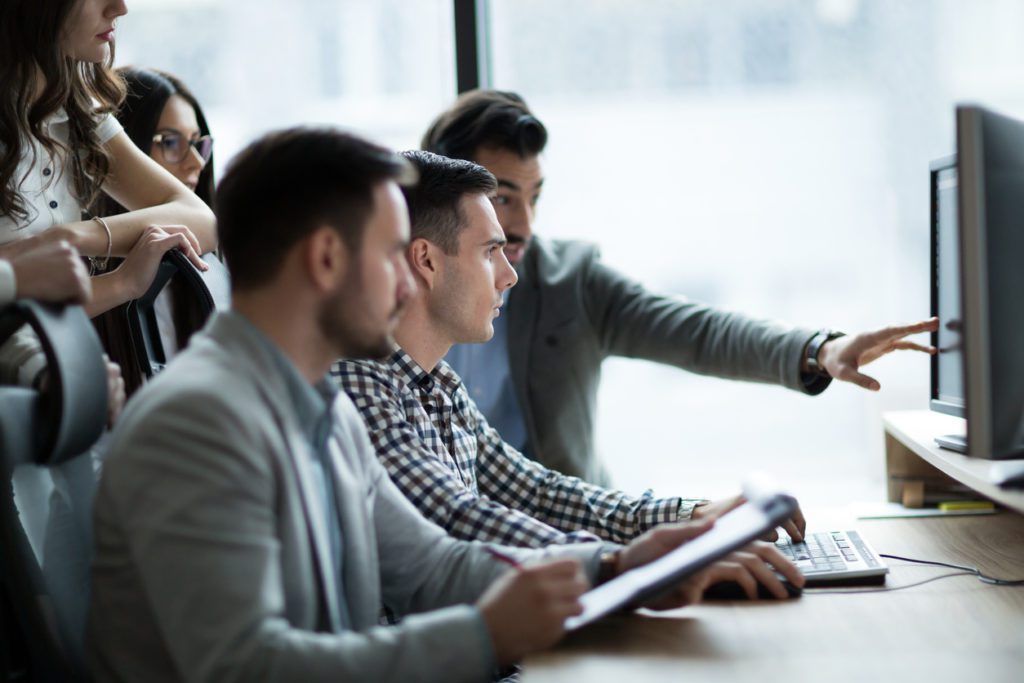 The final part of Microsoft 365 is Office 365 including Office Groups. Teams provide the overlaying architecture for managing the teams, SharePoint provides the site structure for each team, Yammer provides the interactive, real-time communication, OneDrive for business manages backups and data. However, without the globally leading document management of Office 365, Microsoft 365 would not be as robust.
Office 365 Groups "are a shared workspace for email, conversations, files, and events where group members can collectively get stuff done". From the incredible note-taking capability of OneNote to the robust document creation of Microsoft Word, Office 365 Groups gives specific team members the ability to access the key information each person needs to get their work done.
Learn More About Collaborating With Microsoft 365
Even if someone isn't plugged into a CRM, OneNote or Excel notes are accessible to your organization's members. Since Office products are accessible for individuals and enterprise-level applications, many small businesses will start building teams using Office 365. Then, add more robust cloud architecture as needed.
Microsoft 365 promises to help organizations build and manage complicated teams across the globe. Whether your business is a small team or tens of thousands of teams, Microsoft's collaboration software helps you work together. If your business needs to manage collaboration across multiple teams, contact us to discuss how Microsoft 365 could be implemented to meet your needs.