Happy New Year! As the calendar turns, so does technology. It might just be the first day of the year, but that doesn't mean you can relax while the opportunities continue to develop into tech trends. You've read the predictions for 2019. Many of them, especially those from a few months ago, already seem outdated. So let's make this official. Here are Gartner's Top 10 Strategic Technology Trends for 2019, along with a few examples in which we're already seeing these trends in action.
1. Autonomous Technology
[caption id="attachment_161802" align="aligncenter" width="640"]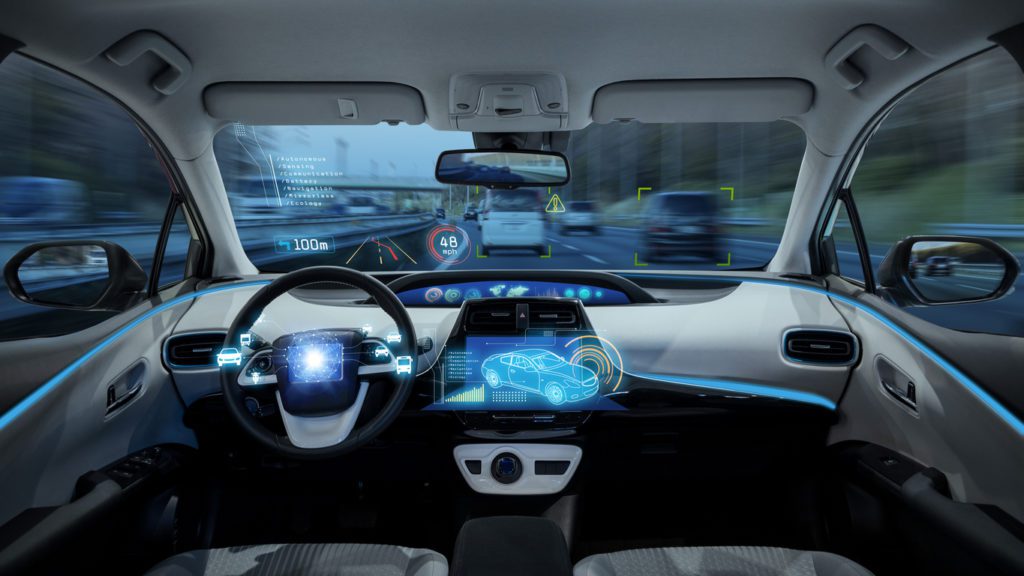 The empty cockpit of vehicle with digital speedometer, autonomous car.[/caption] You've heard about it and started to seen it in action. In 2019, we're about to see it enter the regular business world. Autonomous technology uses artificial intelligence to operate. Individual applications include cars, robots, drones, appliances, and agents.
At this point, the true independence of these technologies varies by application. Most still require human input as they learn how to act based on their environment. But that is starting to change. Some predict that Level 3 autonomous vehicles (using conditional independence through advanced sensor packages, hardware backups, and sophisticated software) will dominate the market in 2019.
2. Augmented Analytics
The days of retroactive analytics are long gone. Today, we're moving to more predictive environments that leverage past data on a more automated basis to build better predictions. Gartner predicts that by 2020, more than 40% of all analytics tasks will be automated.
This shift can best be seen in Microsoft's Power BI solution. An analytics tools for years, the software giant is now incorporating core AI capabilities into its business intelligence platform. Users can even begin to build their own machine learning platforms for better, more customized predictions.
3. AI-Driven Development
Analytics experts aren't the only ones to benefit from AI. Developers are also beginning to leverage the independence that comes with the technology. AI-driven development allows teams to become less reliant on data scientists and pre-existing technical skills, moving the development process itself away from dedicated experts and into the mainstream.
New developments within Microsoft's business platforms are driving this trend forward. Advances in Azure AI, Cognitive Services, and Machine Learning are helping Microsoft users stay one step ahead, empowering AI tools that are at least partially developed by AI tools.
4. Digital Twins
A digital twin represents a real-life object virtually, introducing possibilities in a variety of areas. They're especially important given the rise of IoT and connected devices, allowing companies to model and predict reliability. The result is process efficiency improvement and more predictive product development and maintenance.
Within Azure, digital twins are just beginning to emerge. Announced last summer, they can help you build and recreate real-life environments in a virtual system.  These models are contextually aware, helping businesses scale more easily by predicting anything from space optimization to technological reliability.
5. Empowered Edge
Gartner predicts a steady increase over the next nine years in empowered or intelligent edge solutions, which place data closer to the source to reduce redundancies and improve latency. Among other benefits, that allows IoT devices to both capture offline interactions and translate them into an online environment without delays.
Take it one step further, and you get Microsoft's intelligent edge. It's the same core concept, coupled with AI capabilities to maximize efficiency. Data remains close to both users and source to minimize latencies, making apps and devices more responsive and easily connected.
6. Immersive Technology
Think Augmented Reality, Virtual Reality, and Mixed Reality. We're at the point where they're moving from fun tech toys to actually beneficial business opportunities. Gartner predicts that by 2022, 70% of businesses will at least experiment with this technology to improve a variety of daily and extraordinary tasks.
One example that exemplifies this process is coming to market this year. Microsoft's newest HoloLens runs a full computer system, with full connectivity through LTE and enabling significant AR experiences especially in an enterprise or military context. The border between the real world and tech is shrinking.
7. Blockchain
Fresh off the hype surrounding BitCoin, businesses are realizing that blockchain is far more than cryptocurrency. It's a powerful networking system that distributes the data and therefore has the potential to revolutionize entire industries.
Already, Blockchain through Microsoft Azure is transforming the financial industry and supply chain processes for entire businesses. By 2024, it's expected to hit $24 billion in revenue around the globe and will create $3.1 trillion in business value by 2030.
8. Smart Spaces
It's far more than a science fiction story. Smart spaces connect human operators with entirely connected, digital infrastructure in a physical environment. The most extreme example is smart cities, communicating with each other and residents about immediate and long-term needs.
Smart buildings are becoming more common as a secondary layer. Through IoT devices, they allow any resident or office occupant to interact virtually at the same time as physically. The possibilities for collaboration and productivity are significant.
9. Digital Ethics and Privacy
Newer technology means more data sharing. Increasingly, ethics are entering the forefront to prevent major problems from happening as a result. But these problems have already happened: data leaks by Facebook, Google+, and a wide range of other companies have put into question just how carefully digital companies protect their data.
Governments are beginning to react to that fact. The European Union enacted GDPR last year, ensuring more protection and privacy for its citizens. Other countries and states are following suit. To operate in this type of digital environment, your organization has to prioritize privacy and focus on ethics that ensure everyone with an organization feels the same way.
10. Quantum Computing
Finally, don't underestimate the importance of quantum computing as a rising force in technology. Built the right way, they can be scaled exponentially at much faster rates than traditional machines. Parallel functions without efficiency loss make any comparison to current models inadequate.
We're not there yet, but the possibilities are starting to come into focus. This is the year in which enterprises will begin to research the possibilities of this new shiny toy. Considering that 100 functioning quantum computers could change the entire world, the potential impact of that research is astounding.
Ride the Edge of Modern Tech Trends With Microsoft Opportunities
You might have noticed something about the examples above: most of them are driven or incorporated by Microsoft in its attempts to offer leading-edge tech solutions for its business partners and clients. That's no coincidence. In fact, it's exactly why Microsoft remains a market leader across many business platforms.
Staying up-to-date with current tech trends will be absolutely crucial in 2019 and beyond. Failure to do so means risking the possibility of falling behind your competition. Catching up becomes difficult. Instead, the time to act is now.
Of course, that's not as simple as buying a new Microsoft solution and hoping it works. It requires careful consideration of the platform, and how it fits into your current IT infrastructure. Then, only a strategic implementation will allow you to leverage its full benefits. To learn more about that process, and to get started early on your 2019 IT strategy, contact us.