The ongoing COVID-19 response has tested organizations in more ways than one. As stay-at-home and shelter-in-place orders have become the norm throughout the country, many companies and their teams are trying to wrap their heads around the problem of preserving their culture when engaging in remote work. While video happy hours and fun meetings can be a useful tool for that goal, they can only go so far before something with a little more engagement is needed. While we offer remote work consulting to help keep productivity high, our collection of games for remote teams should help keep the personal connections of your teams in place and reduce the sense of isolation that can creep up after weeks out of the office.
There's one way to encourage communication and culture in a way your entire team can enjoy: games for remote work. Playing games online with your team via video conferencing is a great way to engage team members. You can also use these opportunities for online team-building exercises. Of course, if you just want to give your team members an opportunity to play together to have fun, that works too!
Let's take a look at some of the best games for remote work you can get your team involved with today.
Keep Talking and No One Explodes
The goal of this game is simple: one member of the team is alone in a room with a "bomb". The other team members have the information they need to defuse that bomb. They can't see it, however, so it's up to the entire team to talk it out quickly to get to the bottom of it. This game is extremely well-suited for team-building exercises, forcing your team members to learn how to communicate together. There's a cost involved, but only one person needs to buy it for the entire team to play. There is also the bonus of winding up with bombmanual.com, the virtual copy of the bomb defusal manual, in your browser history.
Catan Universe
One of the highest rated board games of all time, this Settlers of Catan is all about resource gathering and building fictional cities and settlements in a race against others. The online version of the game is free to download from both the Android and Apple app stores, but can also be played through their website for free. Whatever your team is comfortable with.
Role-Playing Games for Remote Teams
Role-playing games for remote work are a great way to get your team members thinking and working together. The most famous of these is probably Dungeons and Dragons, and recently D&D's publisher Wizards of the Coast, has made a multitude of materials available for free download. Other games like the RPG Fate allow you to create your own universe - you could even roleplay your team's office life! Using these games for remote work allows your team members to think creatively to solve problems. There are numerous tools to facilitate online RPG sessions, but our favorite is Roll20.net, which we have been using for Agile IT's Saturday D&D sessions. While the video and voice chat is pretty lacking, pairing it with a complementary channel in Microsoft Teams or Discord makes it really fun.
Charades
This might be the simplest option of all, but don't let its lack of complexity dissuade you from using it. Charades can be one of the best great team-building games for remote work. All you need is a webcam for all your team members and a list of suggestions. It's one of the most reliable, low-maintenance games for video conferencing.
HeadsUp
HeadsUp is dangerously (in a good way!) addictive app-based game in which one individual places the phone on their forehead while the rest of the team provides clues on what's displayed on the screen. While the app works wonderfully, you may need to optimize your video conferencing so it doesn't show the webcam of the person whose turn it is. One low-tech fix for this: a Post-It placed strategically over your own window.
Tabletopia
Tabletopia is a free-to-join site with countless games for your team to play. If you'd like to upgrade with premium features or additional offered games, you can pay extra for them. Tabletop simulator is another paid alternative for almost endless boardgame opportunities, including the ability to flip the table over or play in VR, however each team member must have a copy of it for it to work (each copy costs $20).
Age of Wonders
Yet another game publisher, Age of Wonders has made their top games available through browser and mobile apps. Ticket to Ride is award winning game, which they have made avilable for free on their site. These games bring the fun of board games to a virtual audience.
JackBox Games Series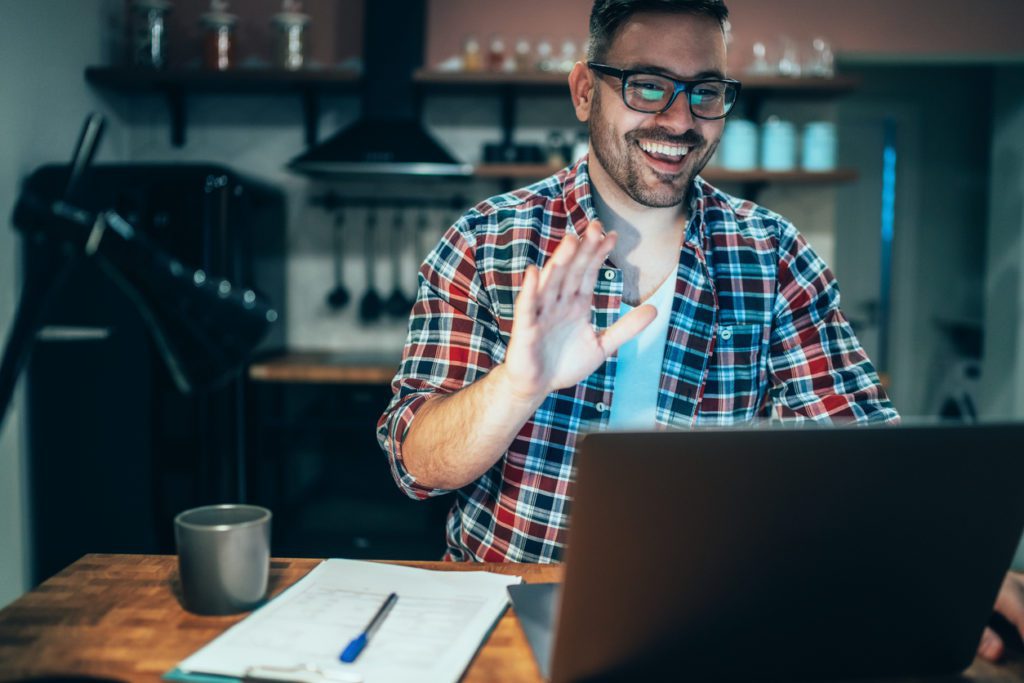 Beginning with the irreverent trivia game You Don't Know Jack, the Jackbox game series offers a variety of fun, interactive online games for multiple players. Each one applies a new twist to the group game, giving your team a fun opportunity to collaborate and brainstorm together in a fun environment. Only one person needs to buy the game - others can jump in with a customized game URL (or play from a shared screen).
Cards Against Humanity
This hilarious (and sometimes a little off-color) card game an online version. It's a bit risque, so be warned: it's typically not appropriate for work environments. If you have a forgiving HR department - and perhaps more importantly, a tight-knit team who all have an off-kilter sense of humor - this could be a good one. Tread carefully, though, warning your team what they're in for (and please don't blame us for any potential HR violations!).
PlayingCards.io
Is your team a fan of card games? Playingcards.io offers you a free place to play card games online. It doesn't impose a set of rules on you - simply a virtual table and deck. Make sure you know the rules of the game you want to play. There are options available for this as well - an expanded Open Library project by the internet archive is chock full of card game rules you can use.
Kahoot
This was a last minute addition to this blog, after our Director of Operations started asking me strange questions about my history via Teams, letting me know that she was planning on running an online Trivia session at our Friday Evening Happy hour. trivia is an ideal game for remote teams, even if it's just dusting of that 1980's copy of Trivial Pursuit and reading questions off the cards. Kahoot is an online trivia platform that has different levels of service for home, enterprise, and educational users, staring with free plans at 10 players, and moving up to enterprise plans with up to 4000 players. Additionally, they boast quick integration with Microsoft Teams, Slack, Zoom, and Google Hangouts. We haven't tried it yet, but we are looking forward to trying it this Friday! Check out their business plans at Kahoot.com.
Find More Games for Remote Teams
Games for remote work in Microsoft Teams allow your team to have fun, grow as a team, and enhance your company's culture. You can maintain existing connections and even establish new ones. Don't let your company's pivot to remote work slow you down. Stay connected in more ways than one. Having the right tool like Microsoft Teams in place is critical for this. It also helps to have a trusted partner to assist you with remote work consulting. Agile IT's Modern Workplace consulting suite of services can work with your team to make sure your remote work solutions provide your organization with the productivity, security, and community you'll need to stay competitive in the modern business landscape. To find out more, contact us today. Regardless, GAME ON!