Many businesses have realized the scalability, flexibility, mobility, and digital security of working with a modern best-in-class business cloud provider. Companies experiencing high growth will, indeed, need collaboration infrastructure that can scale respectively. CyberCatch is a cybersecurity software as a service (SaaS) provider fighting for the small and medium enterprises in the cybersecurity landscape, providing Automated Controls testing for their respective platforms. Further, a Continuous Compliance Assessment package is suitable for the budget constraints of a small business. Cyber Catch compliance will ensure that your business is handling Information designated as (CUI) Controlled Unclassified Information following all industry standards. Regulations and standards addressed by CyberCatch are:
The Cyberwatch Cyber
The Cyberwatch Cyber incident Simulator adequately prepares you in case of an occurrence; incidence response represents an essential cyber security control. Cyber Watch is a must-have for the defense industrial base (DIB) as the frequency and complexity of attacks on this critical sector have only been increasing. Cyberwatch helps SMBs implement an incident response plan to protect against a cyber-attack, and using a tabletop approach, test and fix all the aspects of the project. Further, for defense contractor firms and companies, and businesses, the NIST 800-171 security requirements 3.6.1, 3.6.2, and 3.6.3 mandate an Incident Response Plan and Testing of the Response Plan.
CyberCatch is now available to the small to medium-sized businesses (SMBs) it aims to serve. Incorporated in 2019, two years of developing, testing, finalizing products, building up a quality technical team, and onboarding initial business customers occurred. CEO Sai Huda stated the company is "coming out of stealth mode, and letting the world know we're here to protect them." CyberCatch will release its first Small and Medium-Sized Businesses Vulnerabilities Report (SMBVR) as part of its coming out of stealth mode  – the report is a deeper look at cyber threats to SMBs.
What CyberCatch Needed in Cloud Infrastructure
CyberCatch represents the fast-growing need for secure cloud infrastructure among startups and SMBs working in the military-industrial complex. Further, the company was experiencing significant growth and needed a cloud migration partner to help them move to a secure, modern, business-tailored collaboration platform. The CyberCatch board of advisors has determined a strategic cloud security plan. CyberCatch aims to be at the bleeding edge concerning technology, cybersecurity expertise, and thought leadership. Decision-makers are forward-looking, implementing strategies that place CyberCatch one step ahead of the rapidly expanding cybersecurity threat.
Business Needs, Cyberwatch and CyberCatch
CyberCatch is an online-based business that sells cloud security solutions to other companies working in San Diego, home to a large military sector with over 6,000 small and medium defense contractors in the County. In fact, Agile IT determined that the business needed a collaboration platform with enterprise-level security built-in.
Solutions With CyberCatch
Identity
Microsoft is one of the only two companies to attain Impact Level 6 DoD clearance and has military-grade encryption and identity management. Agile IT also provides a cloud-based user identity and authentication service with our Microsoft enterprise collaboration suite. The cyber security check also provides Identity Protection and real-time alerts for identity threats.
Azure Active Directory
CyberCatch is migrating from Network Solutions implementation to Microsoft's Enterprise Active directory for small to medium businesses. It, thus, enables CyberCatch to have high availability to all its team members, driving collaboration. Simplified access, rich communication functionalities, and multi-factor enforced Authentication make Azure AD a reliable solution, and Microsoft guarantees 99.9% availability.
Self Service Password Reset (SSPR)
The Self Service Password Management tool helps users reset their passwords when forgotten or misplaced. Resets are also initiated by responding to some additional security challenge questions. Users across your corporate system can now reconfigure the password and unlock their account themselves if the situation arises.
Audit Logging
Due to privileged identity management, the number of administrator accounts is limited because securing privileged system access is critical for ensuring business assets. Privileged Identity Management gives a rich audit trail of admin access.
Conditional Access and MFA for admins and end-users
Multi-factor Authentication comes with Azure AD conditional access. Microsoft enterprise collaboration platforms and portals such as Azure, MEM admin center, Teams, and Microsoft 365. CyberCatch is at the forefront of technology as Microsoft pushes for password-less authentication scenarios, with solutions such as the Microsoft authenticator app for Admins and end-users.
E-mail Protection, Anti-Phishing Policies
CyberCatch gets enterprise-class e-mail protection protecting corporate inboxes from malicious phishing scams, as DOD contractors are a prime target for hackers.
DKIM, DMARC, SPF
Master all your e-mail security with one solution. The three-email security protocols complement each other, and cyber security companies understand how complex their interactions are. Indeed, implementing all the e-mail security protocols provides the best protection.
Microsoft Defender for Office 365
The office defender properties for cloud security provide cumulative security. Indeed, each has a particular emphasis and goal to Protect, Detect, Investigate, and Respond.
Safe Attachment Policies
Setting up safe attachment policies specifies an action for unknown malware detections in Microsoft defender.
Data Loss Prevention Across Exchange, SharePoint, OneDrive, and Teams
Seamlessly integrate your Exchange platform into SharePoint and One Drive. Indeed, collaborate with Teams and share files via one drive with cloud backups.
Mobile Application Management With Enrolment Methods of iOS and Android
Agile IT provided the solution to manage CyberCatch corporate-owned devices and protect data on employee-owned devices. Further, the Microsoft endpoint manager, indeed, provides cross-platform unified endpoint node management
Azure Sentinel Providing Microsoft Information Protection
Azure Sentinel is named appropriately for its duty as "a soldier or guard whose job is to stand and keep watch". The Sentinel is a SIEM (Security Information and Event Management) and Security Orchestration and Automated Response (SOAR) system. It provides security solutions for Microsoft's cloud and enterprise collaboration platforms. Further, the system includes threat visibility, alert detection, proactive threat hunting, and threat response.
Migration Services Provided by Agile IT With CyberCatch
[caption id="attachment_164633" align="aligncenter" width="640"]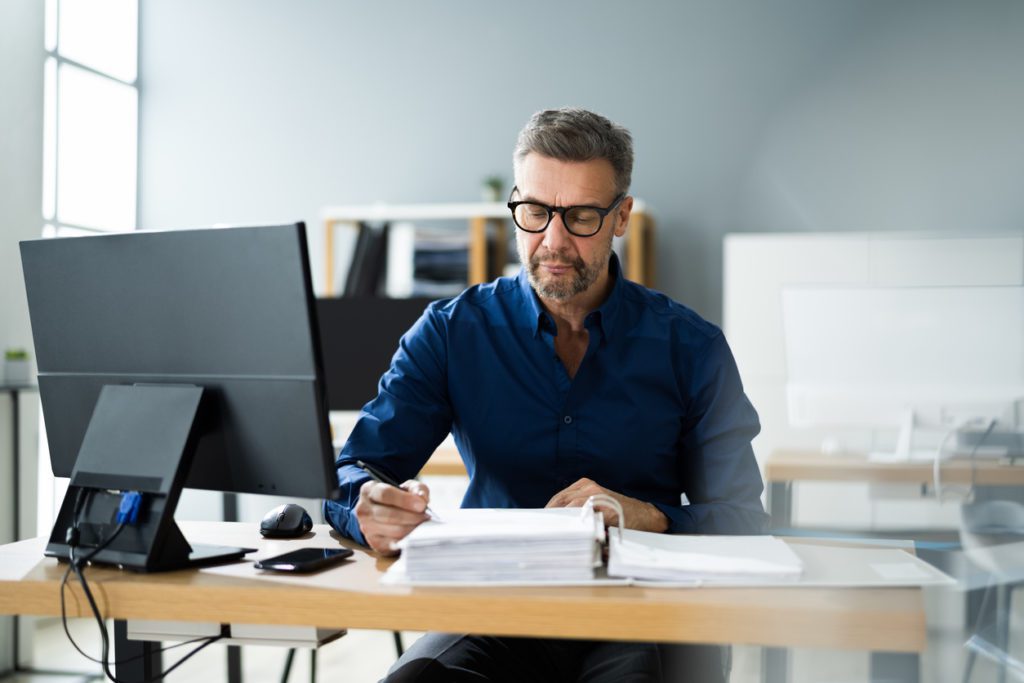 A man using new software at work.[/caption]
Migration from Network Solutions e-mail to Microsoft 365
Microsoft 365 migrations enable you to manage all your e-mail and scheduling into a single secure solution. This connects all your employees. Thus, giving them continued access to e-mail, calendars, collaboration, and information from the public internet when mobile.
Connectivity and efficiency do not compromise the security and compliance of sensitive business data, users, devices, and environments powered by Microsoft's enterprise security tools.
Small businesses are budget conscious; we understand with a fixed price guarantee. Agile IT has migrated over 2 million mailboxes, so we have a clear picture of what your timeline and financial investment will
Do not interrupt core business operations and keep your migration on track. Uninterrupted services, indeed, keep employees productive and customers happy.
Benefits of the Microsoft Secure Enterprise Migration
Agile IT has also provided CyberCatch adequate collaboration platform protection against external threats with the best cloud security solution, increasing trust with prospective clients.
Sai Huda, The Chairman, CEO CyberCatch
Sai Huda, CEO of CyberCatch, is the author of Next Level cybersecurity, a best seller and captured the attention of dignitaries like Department of Homeland Security Secretary Tom Ridge, currently resides on CyberCatch's advisory board. He, indeed, joins the ranks of a team Huda has brought together that names industry experts like former Navy CIO Marv Langston and Andy Kim.
Sai is a globally recognized voice in risk and cybersecurity expert. A frequent keynote speaker, Sai Huda is passionate about cybersecurity after one of his clients, a large government agency, and Sai Huda received notice of a data theft incident which includes his fingerprints; fingerprints are just so personal," he said.