There are over 2 billion firstline workers in the workforce. Indeed, these are the cashiers, merchandisers, warehouse workers, healthcare staff, and all of those who initiate the first contact with customers across industry verticals. Microsoft F1 licensing aims to bring cloud technology to this workforce at low-cost and scale — which can help them collaborate, engage, and connect with customers and employees on a deeper level.
Today, we're going to dive into Microsoft F1 licensing for both Office 365 and Microsoft 365 and talk about the value of these packages and how they can help your organization empower the behind-the-scenes workforce.
Learn more about:
Why F1?
Let's take a moment to talk about the value packed into F1 licensing. Typically, firstline workers don't have access to the same suite of tech tools as C-suite or desk jockeys. F1 seeks to introduce those workers into your tech ecosystem by empowering them with powerful cloud tools and resources that they can use. Frontline workers represent a large portion of the work economy. Over 50% of the entire healthcare field is comprised of frontline workers, and they are significant in a variety of industries, including retail, healthcare, manufacturing, food services, accommodation, etc.
But, frontline workers don't typically operate in the same IT ecosystem as the rest of your business, which can make introducing tangible value through technology complicated. Microsoft's F1 offering changes this by leveraging an ecosystem explicitly designed for this workforce. So, instead of paying for a ton of tools that these workers simply won't ever use — like Office 365 client apps or advanced compliance systems — F1 gives them the apps that they can leverage to gain on-the-job insights. These are things like corporate email, Yammer, and Teams to help facilitate communication throughout the organization and rich features like shift sharing, scheduling, and tasks to help workers keep time and operate more efficiently.
Understanding Microsoft F1 Licensing and Office 365 F1
*Office 365 F1 was originally called Office 365 K1 (or Kiosk)
With all of the Microsoft licensing options available, choosing the right license for the right application can be difficult. It may be easiest to think of F1 licensing is a barebones approach to Microsoft cloud solutions. There are two F1 licenses — Microsoft 365 F1 and Office 365 F1.
Microsoft 365 is the more comprehensive license, and it includes all of the features packed into Office 365 license plus additional non-Office cloud resources (like Azure, Intune, etc). To clarify, Office 365 and Microsoft 365 are license categories. F1 is a license type. In fact, there are Office 365 and Microsoft 365 versions of the E3 license and the E5 license as well.
Here, we compare the features in both versions.
Office 365 F1
$4.00 per user/month
24/7 phone support
The suite of Office mobile apps on up to 5 devices per user
Outlook with 2GB per user
Microsoft Teams (one-on-one calls only)
Online meetings (which lets employees attend Skype Business meetings via their browser)
2GB OneDrive Storage per user
Company intranet via SharePoint mobile app.
Yammer (Enterprise social collaboration app)
Office Online (Word, Excel, PowerPoint, OneNote, Outlook)
Sway (lets users create dynamic reports, newsletters, etc. from their mobile device)
Microsoft Flow
StaffHub (manage schedules and tasks)
MDM (mobile device management) for Office 365
Active Directory integration
Windows Information Protection
Microsoft 365 F1
$10.00 per user/month
Windows 10 Enterprise E3 (local only)
Office 365 F1 license
Microsoft Steam (consumption only)
PowerApps and Flow (consumption only)
Planner and To-Do
Microsoft 365 Admin Center
Microsoft Intune
System Center Configuration Manager
Azure Active Directory Plan 1
Credential Guard
Microsoft Advanced Threat Analytics
Windows Defender Antivirus
Secure Score
Security and Compliance Center
Azure Information Protection P1
Direct Access
Windows Hello
Device Guard
Windows Autopilot
So, the Microsoft 365 F1 licensing offers more value. It comes with Windows 10 Enterprise E3, has tons of additional apps, and has some incredible security and data protection capabilities. Beyond that, the two share the same primary Office 365 apps and benefits.
Both of these require 1-year annual commitments. Therefore, if you're just looking for Office 365 features for small business users and you don't want an annual commitment, Office 365 Business Plans may be a better fit for you.
Office 365 E1 vs. Office 365 F1
Many of you are going to be wondering about the differences between Office 365 E1 and Office 365 F1. Since Office 365 E1 is the "lightest" version of Microsoft's Office 365 enterprise licenses and it only provides web and mobile access to Office 365, having both F1 and E1 can seem confusing. Don't worry. We'll cover the differences But, before we compare them, it's important to note that E1 and F1 are meant for different types of workers. F1 is geared towards frontline workers who aren't on computers during their daily shift. E1 is geared more towards remote workers and other business roles. There are certainly similarities in the way that they consume technology. But, the cloud services that are useful to them differ. For example, frontline workers don't need access to large pools of data storage or advanced Skype Business features — since most of their interactions are consumer-facing.
There are four primary differences between the two.
1. Email & Outlook
Office 365 F1 provides 2GB of Outlook storage per user. It also only includes Outlook via browser, so workers cannot use the Outlook app under this plan.
Office 365 E1 provides 50GB of Outlook storage per user, and it comes with desktop access. Note: E1 plans do not include the Outlook Application license.
2. Skype for Business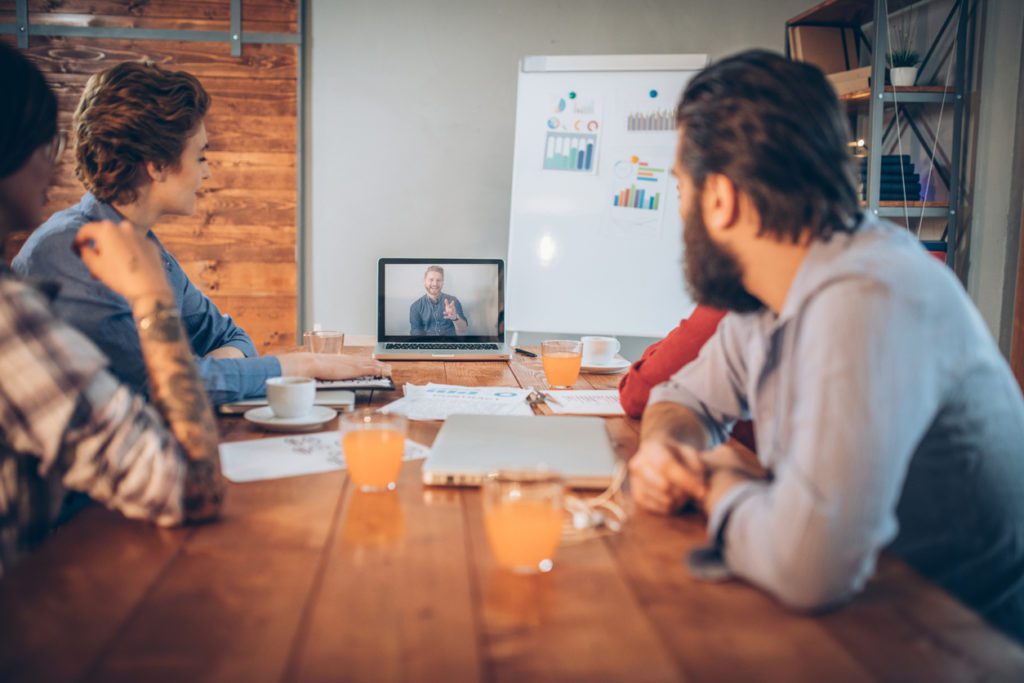 Office 365 F1 only allows users to attend Skype Business meetings via their browser. It also allows the use of Skype Business's instant messaging features.
Office 365 E1 gives users full access to Skype Business. Also, this includes instant messaging, web and video conferencing, meeting scheduling, and more.
3. Storage
Office 365 F1 gives users 2GB of cloud storage via OneDrive Business. In fact, it's important to note that cloud storage cannot be synced to desktops.
Office 365 E1 gives users 1TB of cloud storage via OneDrive Business.
4. Price
Office 365 F1 costs $4.00 per user per month with an annual contract.
Office 365 E1 costs $8.00 per user per month with an annual contract.
5. MyAnalytics
Office 365 F1 does not have access to MyAnalytics.
Office 365 E1 does have access to MyAnalytics.
Microsoft F1 Licensing FAQs
Can I use Microsoft 365 F1/Office 365 F1 for government firstline workers?
Yes! Both Microsoft 365 F1 and Office 365 F1 are available in GCC High. Indeed, there are a plethora of government plans now being offered by Microsoft.
What happened to Microsoft K1 plans?
All K1 plans were converted to F1 plans. This shouldn't impact any of your capabilities. To read more about this, click here.
Should I choose Microsoft 365 F1 or Office 365 F1?
It will depend on your specific business needs. The primary differences between the two boil down to desktop needs. If a portion of your frontline workers uses a desktop during their daily workflows, Microsoft 365 F1 will provide desktop features and save you money in the long run. Here's why.
Microsoft Office 365 License costs $4.00 per user per month.
EMS E3 costs $9.00 per user per month.
Windows Enterprise E3 costs $7.00 per user per month.
So, to meet the same suite of features, you would normally have to pay around $20.00 per user per month.
What does Windows Enterprise E3 (local only) mean?
The Microsoft 365 license includes Windows Enterprise E3, but it doesn't include virtualization rights, downgrade rights or other version rights. There are plenty of other Microsoft Windows 10 licensing options that may be a better fit depending upon your needs.
Does F1 help frontline education workers?
We recommend looking at education-specific Microsoft licenses for education workers.
What if I need extra features for my frontline workers?
Even though this package is marketed as appealing to frontline workers, your unique situation may differ. You can always pay for features individually, but the cost of upgrading your license is usually cheaper. If you need Microsoft E3 licensing to meet the needs of your frontline workforce, that's fine. Remember, your business needs are going to be hyper-specific to your workflows, industry, and operations.
What if I have unique compliance requirements?
If your frontline workers have unique compliance requirements, we recommend upgrading to at least E3 licensing. Data Loss Prevention (DLP), eDiscovery, and other compliance-specific features aren't available at F1 or E1 levels.
Is F1 available for FastTrack?
Yes! F1 is FastTrack ready! Agile IT is a Microsoft FastTrack ready partner. Thus, request a quote below to learn more about eligibility.
Conclusion
Microsoft F1 licensing may be the perfect solution for your frontline workforce. Indeed, it can help you integrate your workers into your tech stack and give them the tools and resources they need to collaborate, track workflows, schedule, and provide critical firstline input. Agile IT is a 4x Microsoft Partner of the year and holds 16 Gold Competencies. We offer flexible CSP licensing for any organization size. Indeed, to find out more about how you can implement F1 licensing to empower your firstline workers without first class pricing, request a quote.