Healthcare employees face a dilemma. Communication and collaboration are essential to successful patient outcomes, but confidentiality requirements constrain what they can do. They need to be confident that their communications will stay secure and unauthorized parties won't see them. Mistakes can result in investigations and heavy fines by OCR.
This is why Microsoft has taken a strong interest in providing collaboration tools that let health organizations collaborate smoothly while satisfying all privacy and security requirements. It has been making big changes to its Teams collaboration software to meet the needs of health care. The F1 package is designed for front-line health care workers who rely on mobile communications. Indeed, with the new enhancements, the people responsible for patients' health will be able to share information with confidence.
Features of Microsoft Teams
The Teams communication platform is a strongly integrated part of Microsoft 365. It provides secure chat, video conferencing, shared file storage, and integration with Office cloud applications.
Conferences can be by audio or video. Participants can connect through a Web browser, a mobile app, or an ordinary phone call. Microsoft partners with companies such as Polycom and Logitech to set up meeting spaces. Users can make VoIP calls within the organization and over the PSTN.
Groups of users can set up messaging channels, using text and images. Users can also send direct messages to individuals. Unlike email, communication over Teams channels is secure.
Not all features are available in all packages. For example, making voice calls outside the organization and having a phone number of incoming calls require purchasing a calling plan.
New Features in 2019 for Health Care
To let providers keep up with the growing emphasis on team-based care, Microsoft has introduced some major enhancements in Teams' health care features. Some of them are still in preview or awaiting their first appearance, but they add up to an impressive set of capabilities. Among the features that are on their way or now available are:
Priority notifications. A message sent with a priority notification will alert the recipient every two minutes for up to 20 minutes or until it is read.
Delegate assignment. A user who can't handle any messages for some length of time can go to "do not disturb" status and have them forwarded to a designated person.
Integration of FHIR-enabled electronic health records. Users can access EHRs from multiple sources securely from a mobile device.
Smart camera. The "smart" aspect is the recognition of images types such as whiteboards and index cards and an auto-cropping capability to go with them.
Shifts. This tool aids in managing and rearranging staff shifts. Indeed, Team members can review their schedules and swap shifts.
Team templates. A template defines a team's channel with customization to fit its organization.
Mobile message federation. Mobile users will be able to have private and group chats with rich content both within and outside their organization.
HIPAA Compliance
Health care providers need to comply with HIPAA and HITECH privacy and security rules. Business associates need to enter contracts binding them to those rules. Further, Teams is built on Office 365's capabilities, which include a well-tested capacity to create compliant configurations. The integration with Office 365 makes it easy to implement consistent data governance policies across all applications.
All message information is managed by Exchange and SharePoint. Administrators can enable features such as data loss protection, discovery, legal holds, and audit logs. The available compliance features depend on the license purchased from Microsoft. All Office 365 business licenses support auditing and reporting, but the other features will vary.
Trustworthy compliance features let team members provide vital patient information without fear of compromising privacy.
Using Templates
The template feature in Teams helps with consistent deployment across an organization. A template specifies settings, channels, and pre-installed applications. Thus, working from a template simplifies application deployment and helps to ensure that all necessary compliance features are included. Further, two base types of templates are provided for health care organizations.
On one hand, the ward template applies to a single ward or department. On the other hand, the hospital template covers collaboration and communication between wards or departments. Each base template includes a set of default channels. Organizations can customize the templates, adding or removing channels to match their particular structures. It's also possible to start from the standard template to create whatever deployment is needed.
First-Line Workers
The F1 license for Office 365 is designed for first-line workers, the people who interface directly with patients and their families. It's more aimed at mobile workers than desk workers. These are people who need to share information quickly but haven't always had the tools which desk employees have. Its components include:
Teams
Email
Calendar
Web-based apps
File storage and sharing
Security and monitoring
It doesn't include desktop applications.
Users can attend Skype for Business broadcast meetings, use the Sharepoint mobile application for intranet access, and participate in a Yammer corporate social network. Also, Sway lets them create presentations and documents from a browser or a mobile app. Lastly, each user gets 2 GB of OneDrive cloud storage.
EHR Interoperability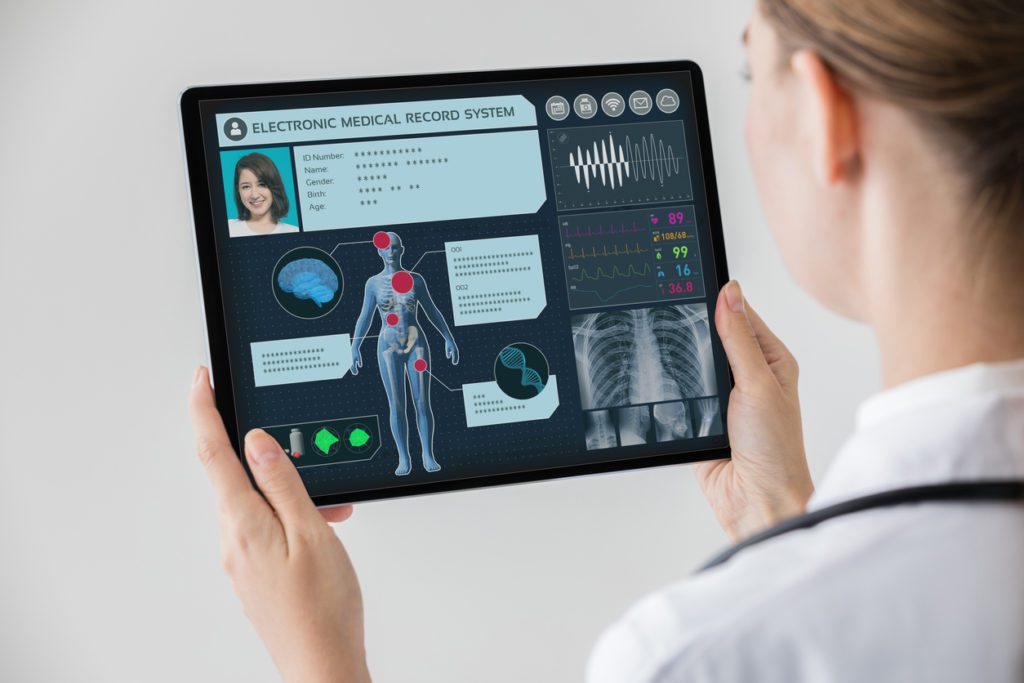 Compatibility in electronic health records (EHR) has long been a nagging problem. Teams uses the Fast Healthcare Interoperability Resources (FHIR) standard for EHR interchange. Microsoft has announced partnerships with healthcare partners for integration of electronic health records. The problem of siloing EHRs is far from completely solved, but the support Microsoft and other major software providers are putting behind FHIR is bringing down many barriers.
Consistent access through FHIR helps health care providers to obtain all a patient's relevant information quickly, communicate it to other team members, and make better decisions for diagnosis and treatment.
How AgileIT Can Help
AgileIT's modern workplace engagement embeds a Microsoft Teams Productivity Specialist in your teams, departments, or pilot groups to assure you get the most productivity from your Teams rollout. Additionally, our security and compliance engineers can establish HIPAA compliance baselines to keep your environment secure and avoid data loss and leakage. If you have over 150 users, find out about the Microsoft FastTrack benefit! Indeed, request a quote today.