Divestitures entail spinning off a division or portion of a business to another company. Typically, the process needs to sell off a division of the business to streamline operations, improve outcomes, and reduce risk. For instance, a company may divest from its healthcare division to reduce the scope of data compliance regulations under the HIPAA Privacy Rule. Doing so doesn't mean the business isn't compliant. Instead, it could be because it wants to lower the risk of non-compliance with the regulatory standard. Planning and executing an IT divestiture is more challenging than what many business owners and IT leaders expect. However, if done correctly, it postures your organization for long-term growth and profitability. Here are some tips for avoiding the four biggest divestiture hazards.
Why Do Businesses Divest?
Divesting is always a difficult decision for businesses because sometimes, a business could be forced to spin off a profitable division. There are many reasons for a business to divest its interests, including:
Financial Injection
Faced with financial difficulties, divestitures may be the only way to keep a business afloat. In this case, a business may sell off its non-core assets. The financial injection can go a long way in preventing insolvency.
Focus on the Main Business
During the mid to late 80s, many larger corporations took over smaller businesses. Often, both entities were from different industries, leading to compatibility issues. With time, the larger corporations realized that the newly acquired non-core assets were hindering their operations. For this reason, businesses sell off non-related units to focus on their core operations.
Better Investment Opportunities
Profit-making is the primary objective of all businesses. Sometimes, that means seizing opportunities and lucrative assets that come their way. As a result, a business may divest a less profitable division and invest in one that promises higher returns.
What Are the Challenges of Divestitures?
Divestment is generally more labor-intensive than mergers and acquisitions. While mergers and acquisitions can drag on for as long as needed, divestitures often have strict time constraints. Extensive planning is necessary to guarantee the speedy execution of the process.
Operational challenges and accounting complexities are the main challenges that divestitures face. Cybersecurity has also emerged as a threat to divestitures, especially for IT companies. Indeed, it is challenging to spin off a company that doesn't have proper cyber security measures in place. If a cyber threat becomes an attack event, the value of such companies will take a hit.
Top 4 Biggest IT Divestiture Hazards and How to Avoid Them
Here are the top four risks that are inherent in mergers, acquisitions, and divestitures for IT teams:
1. Security Divestiture Hazards
Security should be a primary priority for an organization. Technology has made it easier for companies to manage security. Nonetheless, you need to pay more attention to security during a significant organizational change like a divestment. During the divestment process, malicious actors can leverage weak controls to intrude on your system. Employees disgruntled by the divestiture may also try to derail the process. Weaker security standards could water down the valuation of the unit you're divesting. As such, you need more robust security standards to not only protect the process but also your company's reputation.
Higher security standards are necessary if the divestment will see part of your company moving into an environment with enhanced governance and security. With divestment comes change, thus the need to instill confidence in employees and ensure they continue to perform their roles. Common IT focus areas during the divestment process include:
How employees will access business-critical applications and systems as the divestiture proceeds.
The buyer's and seller's security policies. Are their policies compatible, or will additional training be needed before employees transfer to the new business unit?
Are there regulatory and IT compliance issues requiring additional training before the divestiture concludes?
Which security measures will be in place for continuity of access?
Avoiding Security-Related Hazards
Since security is among the critical IT divestiture hazards, it's best to leverage the available tools to mitigate it. For instance, Microsoft 365's MFA enrolment process makes onboarding stress-free. However, it needs to be communicated well, or you risk receiving tons of support calls. Having insider risk management tools during the divestment process can help you identify common risk indicators. These include data exfiltration and emails containing sensitive keywords.
You may also want to leverage tools such as Secure Score and Compliance Manager. These are included in most Microsoft 365 packages and help you to optimize overall security before the divestment date. Remember that security lapses could derail the process, hence the need to implement these tools.
2. Collaboration Divestiture Hazards
[caption id="attachment_164589" align="aligncenter" width="640"]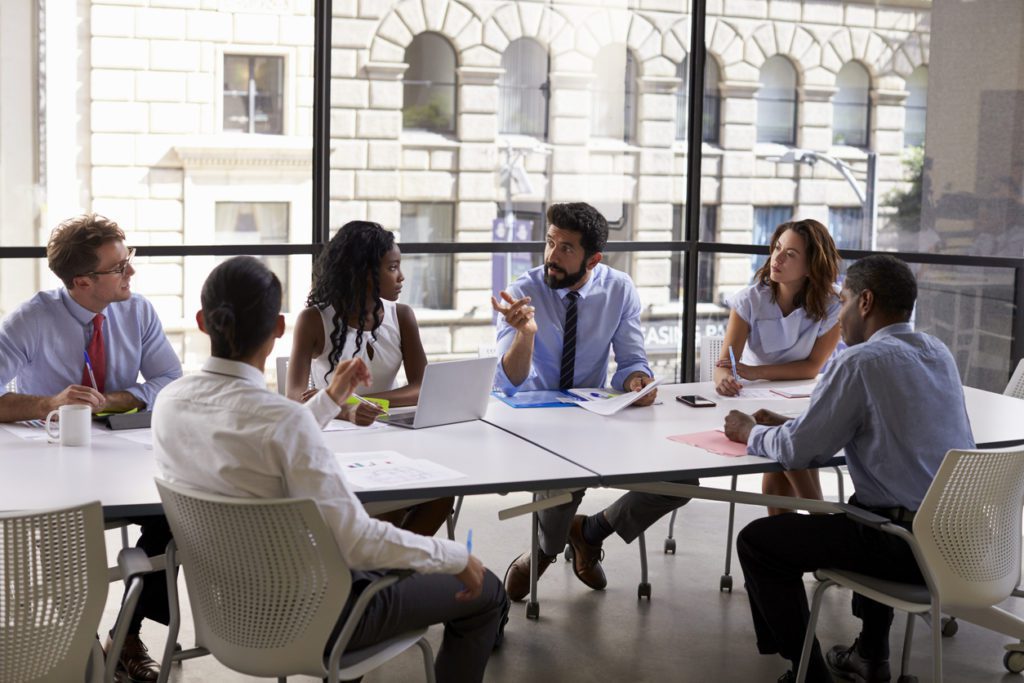 Corporate business team and manager in a meeting.[/caption] A divestiture comes with the risk of employees losing tools and resources that they previously had at their disposal. For instance, tools that support the new organization's HR and IT functions may not be available on Day 1. This means it could take a while for everyone to get up to speed.
Likewise, tools such as VoIP, instant messaging, email, and project management are critical for a business to function. If these tools are not immediately available after the divestment, productivity will take a hit. Moreover, employees won't feel confident in the new structure.
Collaboration services can play a significant role in how customers perceive the quality of your services. After a divestment, one of the critical questions is, how do I keep my email addresses? Even as a business unit changes ownership, it's best to maintain a semblance of continuity. In this regard, buyer and seller teams should join hands and communicate how collaboration will be maintained during the divestiture.
Avoiding Collaboration Hazards
Communicating the road map of the divestment to your stakeholders is critical in setting expectations, fostering awareness, and creating understanding. Employees should also be kept informed of what's happening so they don't get caught by surprise when the business unit changes ownership.
A key strategy for maintaining collaboration during divestiture is understanding the scope of the process. In doing so, it will be easy to tell how business operations will be affected. Will users still have access to their email addresses? Will those emails remain functional, or when will they stop working.
Keeping everyone in the know goes a long way in eliminating the confusion typical of the divestment process. Employees should know about the divestment as soon as it's legally and operationally possible. Regular communique should get dispatched so that they don't feel left out.
3. Endpoints and Devices Divestiture Hazards
During a divestiture, one of the main concerns among employees is whether they'll keep using the current devices or get issued with new ones. If employees need to use new devices, will further training be required?
During the divestiture, it can be a nightmare for employees or the merged business units to get new devices on Day 1. Likewise, software installation may overload on-premises deployments, and users may also not know how to log into their new devices.
Avoiding Endpoint Hazards
Planning early can help you avoid endpoint and devices hazards. For instance, leveraging Microsoft Endpoint manager can help you to deploy common apps from the cloud to users' devices, thus reducing the burden on the organization's on-premises solutions.
The transaction teams should also align early so that new devices get availed if necessary. In recent years, companies have been implementing bring-your-own-device (BYOD) models. Intune Mobile Device Management for corporate devices and Mobile Application Manager for BYOD devices can help you maintain endpoint and device security.
If your team will use their own workstations, leverage Azure Virtual Desktop or Windows 365 to provide a secure and segmented workplace. You may also want to deploy Windows Autopilot pre-provisioning so that end-users conveniently sign in to the new devices using their credentials. After that, the devices will automatically install the required security policies and software.
4. Support Divestiture Hazards
Employee support is among the most critical IT divestiture hazards. It impacts normal business operations. Day 1 sucks when everyone knows their job, but everything is new. That's particularly the case if a non-IT business orchestrated the buyout. Even so, support calls are likely to increase even more due to the uncertainty that typifies mergers, acquisitions, and divestitures for IT teams.
How to Avoid the Support Hazard
When you embark on the divestiture, you should plan for seamless support service. It could entail keeping your IT helpdesk operational. Also, communicate the changes happening in your organization. If possible, consider investing in a self-service portal so that employees can continue accessing support services. Documentation is equally essential because it helps to reduce overall support time. For instance, it's easier to send template walkthroughs rather than answering the same questions repeatedly.
Avoid These IT Divestiture Hazards
Divestments provide exciting opportunities to businesses, but they come with a fair share of risks. Planning for these hazards and implementing measures for avoiding them goes a long way in ensuring the success of the new business unit. Remember that communication is critical through the divestment process since it helps to eliminate uncertainty. If you're looking to maintain your cybersecurity posture during the divestment process, consult the experts at Agile IT.
Agile IT has managed and advised some of the most complicated mergers and divestitures in history (Imagine merging over 15,000 independent franchise tenants into a consolidated environment), and has built scalable repeatable processes for streamlining the challenges IT teams face during divestitures. Contact us today to schedule a consultation.