Highly anticipated Office 365 has been released. This blog explains how you can use Operations Manager to seamlessly integrate monitoring of the Office 365 functionality into your enterprise management. Please note that in order to enable the monitoring as described below you need to have Microsoft System Center Operations Manager (SCOM) 2007 R2 with CU4 installed. Please follow theCU4 installation instructions and make sure to import the management packs listed on the instructions page. This management pack allows monitoring three end-user scenarios: login into Office 365, accessing Office 365 mailbox and accessing Office 365 team site. The tests monitor HTTP status and the content of the web pages to ensure that functionality was rendered correctly. To enable monitoring of Office 365 you need to perform the following steps.
Create a user account to access your Office 365 environment. We recommend that you create a test user account: account login credentials are used in the tests.
Create a corresponding Run As account

In the Administration pane, under Run As Configuration right click on Accounts and choose Create Run As Account.
Choose Basic Authentication and some display name, for example Office365Account. Next.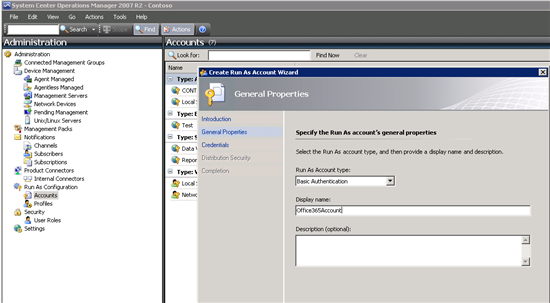 Read the rest of this excellent post @> Monitoring Office 365 using Operations Manager - System Center Operations Manager - Site Home - TechNet BlogsPlease check us out for your Managed Service or Cloud Consulting needs.